A&E waits improve across England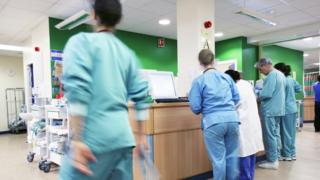 Waiting times for A&E patients in England have improved slightly in the past week, figures show, with NHS bosses suggesting they give grounds for "cautious optimism".
In the seven days up until last Sunday 92.9% of patients were seen in four hours, up from 92.3% the week before.
It is still below the 95% target, which has not been achieved on a weekly basis since September.
Performance in Wales and Northern Ireland is even worse.
'Encouraging'
The improvement in England came despite a rise in attendances from 401,000 to 407,400.
The major A&E units are struggling the most. The overall figures include walk-in centres and minor injury units.
When these are excluded 89.1% of patients were seen in four hours.
NHS England said it was encouraged by the figures after performance at the turn of the year dropped to the lowest level since the target was introduced in 2004.
Dr Sarah Pinto-Duschinsky, of NHS England, said: "A&E performance moved in the right direction week-on-week giving cause for cautious optimism, with more than nine out of 10 patients being admitted, treated and discharged within four hours.
"This has been achieved in the face of increased pressure on A&E with both the number of attendances and emergency admissions having gone up this week.
"The cold can contribute to heightened levels of respiratory illness - particularly among the elderly and those with long terms conditions.
"The message is to stay warm, stock up with your usual medicines and make full use of your local pharmacist."
Figures elsewhere in the UK are published on a weekly basis.
During December just 76.7% in Northern Ireland were seen in four hours, while in Wales 81% were, a drop since November for both nations.
In Scotland 89.9% were seen within four hours in December - a similar performance to England during that period.
But there was bad news on cancelled planned operations - which also reflect pressure on the service.
NHS England quarterly data for last October to December show they were up nearly 25% on the same period the previous year.