State of the NHS: Wales v England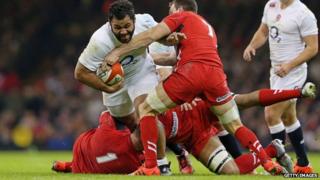 It's like a rugby international - with politicians from Westminster and Cardiff tearing into rucks and mauls in the increasingly acrimonious health debate.
Each side has found data to back up its claims, with the Conservatives anxious to show that the Labour-run NHS in Wales is in decline and the Welsh administration accusing the Tories of distorting the facts.
But away from the political playing field, what is the truth about the NHS in Wales?
As always, it is a complex picture not easily reduced to simple conclusions and soundbites. The political parties, however, are likely to continue to exchange blows over the issue as the general election approaches.
The latest accident and emergency waiting times reveal that Wales is still lagging behind England.
The figures for January show 82.8% of patients being seen within four hours, up from 81% in December but still well short of the 95% target.
In England the comparable figure was 90.8%. January data for Scotland and Northern Ireland is not yet available.
Ambulance response performance in Wales has also fallen short of the equivalent figure in England.
Trade-off
Another batch of health data today, though, looks more favourable for Wales.
The proportion of cancer patients whose treatment began within 62 days of being referred by a GP rose to 88% in the final three months of 2014. That compares with 83.8% of patients in England. The Welsh government's target is 95% while England's is 85%.
Analysis by the Institute for Fiscal Studies sheds new light on the decisions made by the different administrations.
The IFS says that between 2010 and the current financial year, health spending in England rose by 4.3% while the Welsh government cut its health budget by 2%.
But for social care provided by local authorities, there was a sharp drop in England of 11.5%, while in Wales the equivalent budget was reduced by just 0.8%.
Cardiff in effect had decided its own trade-off between spending on the NHS and social care which was different from England's.
The Welsh government argues that protecting social care spending as much as possible has allowed more efficient transfers of patients back to the community from hospital beds.
Bigger challenge
Data on delayed transfers of care analysed by the Nuffield Trust reveals contrasting stories in England and Wales. They were up by a third in England between 2011 and 2014, but down slightly in Wales over the same period.
A familiar argument in Wales is that a legacy of industrial-related diseases and deprivation in some areas has created a bigger challenge for its NHS than for the health service in England.
The Nuffield Trust has pointed out that, because of these factors, a direct comparison between Wales and England is not useful.
Better, says Nuffield, to compare Wales with the north east of England (where spending per head on health is higher than in Wales).
The debate will continue until polling day and beyond, although it may be less intense after May.
It is worth noting that the general election in 2015 is all about electing parties to run health policy in England.
Elections for the devolved administrations and who runs their health services won't take place till next year.