Child mental health: A mother's struggle
By Michael Buchanan
Social Affairs Correspondent, BBC News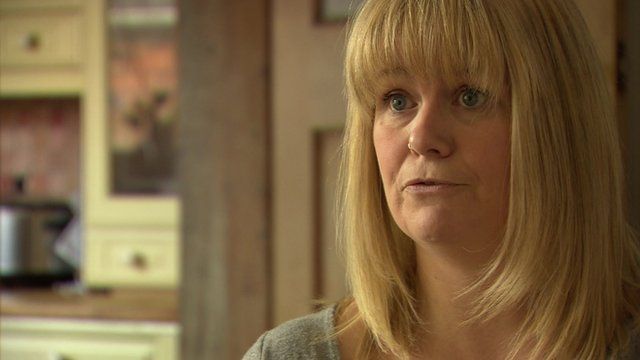 In the first ever children's mental health week, a small survey reveals parents' frustration with the support they get.
Parents like Sally Burke.
She has toughened up. She has had to.
She says: "I've become a very hard woman. I'm holding my emotions at arm's length so that I can function."
The change has been brought about by having to cope for more than two years with her daughter Maisie's mental health problems.
She said: "Previously, things that Maisie said to me would really have hurt me, I'd have been upset and cried.
"Now I've got to let it all ride over me and think she doesn't mean it."
Maisie was a difficult baby, who became a difficult toddler, who became a difficult child.
Sally used to think her daughter "would be better when she was three, she'll be better when she goes to school, she'll be better when she's a teenager".
Maisie has autism but her problems escalated when her father died.
She didn't cope well, so Sally took her to see a child psychiatrist.
Aged 11, Maisie disclosed she was feeling suicidal. Family life became much more difficult.
Within months, Sally discovered her daughter self harming, leading to the then 12-year-old being taken to a children's mental health hospital in Stafford, 130 miles from their home in Hull.
No beds were available anywhere nearer. The distance meant visits were infrequent.
Her mother said: "A girl a lot older than her beat her up one time. She sobbed down the phone 'I want a cuddle, I need you'.
"It was horrific. I couldn't give her a cuddle."
Maisie was moved slightly closer to home, to a unit in Sheffield. Her health improved and she was allowed back home.
But last autumn things deteriorated again.
According to Sally everything was "I want death".
Even when asked what she wanted for tea, Maisie would say "I want death".
She took an overdose and has been back at the unit in Sheffield since December. And the distance remains a problem.
A unit in Hull that Maisie used to attend has been closed and Sally and other parents in the city who have children with mental health problems have started a petition to get it re-opened.
"She needs to be nearer her family," says Sally.
"She's homesick and there's a possibility she could be away for six months. That's an enormous amount of time for a child of 13."
The struggles the Burke family have encountered are sadly not unique.
A small self-selecting survey of 377 parents of children with psychiatric problems suggests that two-thirds believe they don't get enough support, while a quarter had to wait more than a year to receive treatment for their child.
Charity Young Minds conducted the survey on behalf of NHS England.
Sarah Brennan, Young Minds' chief executive, says: "Our survey of parents who have used children's mental health services starkly demonstrates that they far too often have to battle to get the support their children need.
"Our research also shows how parents often feel alienated from their child's treatment and are frustrated at the lack of resources available to support young people with mental health problems."
NHS England now says it intends to work with the charity to improve parental involvement in the development of psychiatric services.
Dr Martin McShane, of NHS England, says: "What we've heard from the survey is a real wake-up call for the system.
"We know from experience that if we work with parents we'll get better services."
Sally Burke feels the system is currently failing her sick daughter.
The local unit she relied on has closed; the 24/7 support service she used to access has been scaled back.
She's turned to direct action - through the petition, social media and lobbying of MPs, ministers and health officials.
She's doing everything she can, everything she knows, to get her daughter the best care.
Related Internet Links
The BBC is not responsible for the content of external sites.