Child mental health: Parents to get more say on care, says NHS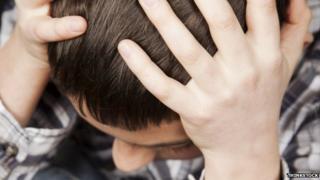 Parents of children with mental health problems in England will get more say on their care, says the NHS after a survey suggested major problems.
A survey of 377 parents by charity Young Minds found two thirds believed they did not get enough support.
It also found a quarter had to wait more than a year for treatment for their child.
The survey was carried out on behalf of NHS England, which said it was a "wake-up call for the system".
It said it now intended to work with Young Minds to improve parental involvement in the development of psychiatric services.
'Alienated'
Dr Martin McShane, of NHS England, added: "We know from experience that if we work with parents we'll get better services."
Young Minds chief executive Sarah Brennan said: "Our survey of parents who have used children's mental health services starkly demonstrates that they far too often have to battle to get the support their children need.
"Our research also shows how parents often feel alienated from their child's treatment and are frustrated at the lack of resources available to support young people with mental health problems."
The survey was self-selecting, meaning it was open to any parent of a child with psychiatric problems who wanted to take part - rather than a random statistical sample of such parents.