WHO calls for action over Mers virus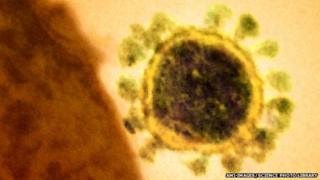 Too little is being done to control the spread of Middle East Respiratory Syndrome, which has infected 50 people in Saudi Arabia so far this month, the World Health Organization has warned.
The rising number of cases in health-care facilities indicates current infection-control measures are not being implemented, it says.
There have been at least 1,026 recorded infections and 376 deaths since 2012.
Experts in the UK say the risk to the general population remains very low.
Cases have been confirmed in the UK, Jordan, Qatar, the United Arab Emirates, France, Germany, Italy, Tunisia, Egypt, and the US - usually after travel to Saudi Arabia.
Camel milk
WHO assistant director general Dr Keiji Fukuda said: "When health workers are infected at work, this puts other health-care workers at risk but also can be a risk to all other patients who seek care for other health conditions.
"Understanding where the breach in these measures is occurring and taking the steps needed to fully implement infection prevention and control measures can put an end to these nosocomial infections."
Dr Berhe Tekolathe, from the UN's Food and Agriculture Organization, said it was working to establish the root cause of the infection, which researchers believe crosses over to humans from animals - possibly camels.
So far, person-to-person transmission has remained limited to clusters.
The WHO warned people to avoid raw camel milk and urine and to ensure meat was properly cooked.
---
What is Mers?
A type of coronavirus, which causes respiratory infections
First death recorded in 2012 in Saudi Arabia
Camels are suspected to be the primary source of infection for humans
Symptoms include fever, cough, and shortness of breath
The best way to prevent it is to follow good hygiene advice - use a tissue for coughs and sneezes and wash your hands
The mystery virus with no known cure
---