Savile: Why the risks are real in today's NHS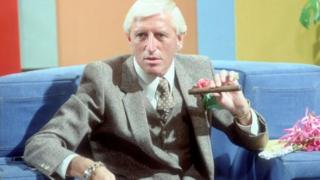 It is easy to say Jimmy Savile's abuse of patients, staff and visitors on NHS premises would not happen in today's health service.
But the report published by barrister Kate Lampard on the lessons learned from the 44 NHS investigations shows this would be dangerously complacent.
While the majority of the crimes took place decades ago, Ms Lampard still warns "there are many elements" that could be repeated in the future.
She goes on to cite a host of weaknesses from how the NHS deals with celebrities to policies in place to deal with internet use and social media.
There is, she says, always a risk of abuse, including sexual abuse in the NHS.
Large problem
But the difficulty is this: how do you make what is essentially a public space safe when it's so large?
The floor space of the NHS stretches across 26 million square metres - that is enough to cover the City of London nearly 10 times over.
People are free to come and go across many parts of the NHS, particularly hospitals where most of the abuse by Savile was committed.
For example, the NHS and care sectors rely on about an estimated 3 million volunteers to work alongside staff, while hospitals employ many third party contractors to carry out works and repairs on buildings.
Savile and the NHS
44
NHS investigations in total
34 hospitals

5 mental health units

2 children's hospitals

1 ambulance service, 1 hospice and 1 children's convalescent home
BBC
Security measures, including the way those who work at hospitals and have access to them are vetted, have been tightened up over the years. But there are still too many weaknesses, the Lampard review says.
People in hospital are by their very nature vulnerable and likely to be at greater risk of sexual abuse so the report says it would be "proportionate and justified" to require all those who work or volunteer in hospitals and have access to patients and their visitors to undergo barring list checks.
The NHS is also criticised for not being engaged enough with local safeguarding arrangements run by councils.
And it warns of the dangers of still being "star-struck" by celebrities and major donors with all hospitals having charitable arms that engage in fund-raising activities.
Better policies are needed to govern these, the report says.
Whistleblowing
Tightening arrangements to protect people from the inappropriate use of social media and internet use, such as grooming, are recommended too.
It calls on regulators such as the Care Quality Commission and NHS England to ensure all these steps happen.
But perhaps the most pertinent issue flagged up relates to a very basic element of human nature: ensuring people take responsibility when they are concerned about something. That, of course, requires individuals to take a stand.
That didn't happen enough when Savile was committing his crimes. But it is not unique to this case.
One of the main findings of the Stafford Hospital scandal, for example, was the lack of whistleblowing. In fact, this was subject to a recent review by Sir Robert Francis recent review by Sir Robert Francis, which warned people who try to raise the alarm are too often isolated or bullied even now.
Ms Lampard does not like the term whistleblowing, saying it suggests a public challenge to authority and could discourage people from coming forward.
But she is clear - as Sir Robert was - the NHS must get better at creating the right culture so people feel comfortable speaking out and acting when they do.