NHS discharge delays hit record levels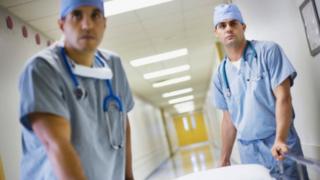 Vulnerable patients are getting stuck in hospital in England as delays discharging people hit record levels, figures show.
There were more than 160,000 days lost to delays in October - up a third since 2010 when record-keeping began.
Experts said the problems were being caused by a lack of community services into which to release patients.
The figures also showed many NHS targets - covering ambulances, cancer care and A&E units - were being missed.
Leading research group, the Nuffield Trust, said the NHS faced a real struggle this winter unless it could urgently invest in extra beds in care homes and other community settings to relieve the pressure on hospitals.
The NHS England October performance data showed:
Ambulances missed their target to answer 75% of the most serious 999 calls in eight minutes - the fifth month in a row it has not been achieved.
A&E units missed their four-hour target to see, treat or discharge A&E patients - the 13th time in 14 months performance has dropped below 95%.
At the end of the month, 1.7% of patients had been waiting more than six weeks for diagnostic tests - nearly twice the proportion that should be suffering such delays.
One of the key cancer targets - the 62-day target for treatment to start - was missed with nearly one in five patients waiting longer.
The NHS 111 phone service missed its target to answer 95% of calls within 60 seconds.
But hospitals did hit their 18-week waiting time target for routine operations, like hip and knee replacements.
The position on many of the measures is worse than it was this time last year, which ended up being the most difficult winter for a generation.
Hospitals in Scotland, Wales and Northern Ireland are also struggling with many of these measures - with the four-hour A&E target being missed across the board.
---
The NHS in winter: Want to know more?
Special report page: For the latest news, analysis and video
Analysis: The lost beds problem
Winter across the UK: A guide to how the NHS is coping
Video: Why hospitals are under so much pressure
Video: How a hospital can grind to a halt
---
The data has been released as the Nuffield Trust published its findings from a review of health service performance last year.
The think tank found a small proportion of patients - only 3.6% - had taken up more than a third of hospital bed capacity.
This was because they spent long periods in hospital or were readmitted on a regular basis.
The research group said help targeted at this group - most of them frail and elderly - could have a big impact.
The report said investing in intermediate care beds could provide a solution - allowing hospitals to discharge the frailest patients into a safe environment until they have recovered or until care packages could be arranged in their own homes or permanent places found in care homes.
This has been done in Glasgow, where the local council and NHS have worked together over the past year to ensure care home beds have been freed up for hospital patients to move into temporarily.
Nuffield Trust chief executive Nigel Edwards predicted that this winter, hospitals were going to find it "even more difficult to cope" unless the health service invested in intermediate care beds to get patients out of hospital.
Rob Webster, chief executive of the NHS Confederation, which represents hospitals, backed the findings.
"Hospitals under pressure has become the status quo and this winter is unlikely to be any different," he said.
"The solution often clearly lies outside of the walls of our hospitals and into communities."
An NHS England spokesman said: "Nobody could argue there isn't ongoing pressure on the NHS. Despite this our staff continue to provide quality services in the face of increasingly high levels of demand throughout the healthcare system.
"Front-line services are treating record numbers of patients. We continue to admit or treat and discharge more than nine out of 10 patients within four hours - a higher standard than any major western nation.