Being president is bad for your health, study suggests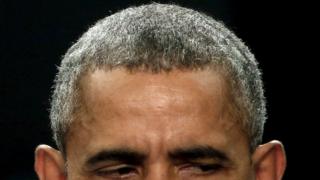 Donald Trump should enjoy his health and vitality while he has it, a new study suggests.
The Republican presidential hopeful - whose physical condition was described by his doctor on Monday as "astonishingly excellent" - could apparently lose years of his life to high office.
The study, published by the British Medical Journal, found that world leaders live an average of 2.7 fewer years than runners-up.
Mr Trump may be - again, in the words of his own doctor - "the healthiest individual ever elected to the presidency", but the presidency could put paid to that.
The authors of the paper measured 279 leaders in 17 countries against 261 candidates who did not quite make the cut - the idea being that the two groups would be of similar wealth and social standing, and so have similar access to healthcare.
After adjusting for a candidate's age and life expectancy, leaders were found to live 2.7 years less and have a 23% higher risk of premature death. Being generally wealthy and well looked after, they still tend to live longer than average, but not longer than those who take a slightly less stressful path through politics.
US presidents were the worst affected, according to the study, with a 5.7-year deficit to their runners-up. Previous studies have found that presidents live longer than their constituents but this recent study compared them with more direct peers in an attempt to mitigate differences in diet and access to healthcare.
Particular attention has been paid to US President Barack Obama and his apparent ageing over nine years in office. Mr Obama said last month that he did not dye his hair, unlike some: "I don't dye my hair and a lot of world leaders do. I won't say who. But their barbers know, their hairdressers."
Greater levels of stress may elevate the amount of certain hormones including cortisol, which can increase the chances of heart disease, said Anupam Jena, a senior author behind the study.
"The increase in mortality among those leading a nation, relative to others in politics, may stem from the greater responsibility and stress of the job," Mr Jena said. "The decisions are more impactful, the spotlight is greater, and I suspect the job is even more strenuous."
One limitation of the study, acknowledged by its authors, is that focusing on survival after the leaders' final election could introduce bias because unhealthy leaders might not seek another term.
Meeting Canada's new Prime Minister Justin Trudeau recently, President Obama advised his counterpart to start dying his hair. Mr Obama's transition from dark to grey hair has been well documented during his time in office.
"Someone like him, who is fit, may be in a better starting position than others," Mr Obama said. "The years could be kinder to him."