Junior doctors' strike: Race on to avert next walkout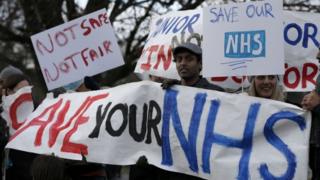 Attempts are under way to avert a second doctors' strike in England, as hospitals battle to rearrange thousands of operations postponed because of the contract dispute.
A 24-hour walkout by junior doctors ended at 08:00 GMT, and conciliation service Acas said fresh talks would start on Thursday.
The next proposed strike is a 48-hour one beginning on 26 January.
About 3,300 operations due to take place on Tuesday were postponed.
That is one in 10 of the operations scheduled for that day. Several hundred others have been cancelled in the days before and after the action.
NHS England said about 10,000 junior doctors had reported for duty out of 26,000 scheduled to work the day shift on Tuesday - although many of those had agreed in advance to come in to make sure emergency cover was provided.
Junior doctors' dispute: What next?
The action came after the British Medical Association (BMA) and the government failed to reach agreement on a proposed new contract for junior doctors.
The BMA, which is concerned about pay for weekend working, career progression and safeguards to protect doctors from being overworked, said the strike had sent a "clear message" to the government.
However, Health Secretary Jeremy Hunt described the walkout as "completely unnecessary" and urged junior doctors to return to the negotiating table.
The last time both sides met formally was on Friday, but negotiations were put on hold while the strike took place.
Officials from Acas said they would hold discussions with both sides on Thursday and Friday, although government sources said they were still prepared to impose the contract if the deadlock could not be broken.
Junior doctors on strike
31,000
operations were scheduled for Tuesday
3,300
of those operations have been cancelled
55,000 junior doctors work in England

37,000 are members of the BMA

26,000 were due to work on Tuesday

10,000 or so turned up for work
Science Photo Library
Danny Mortimer, chief executive of NHS Employers, which represents the government in contract talks, said he hoped that would not happen.
"I'm really hopeful that when the BMA return to the talks we can give junior doctors more confidence in both the pay offer that we're putting to them, but also the improved protections we want to put in place around their safety.
"I am desperate to avoid another repeat of industrial action at the end of the month. It's not in their interest and it's not in the interest of patients."
---
What is the dispute about?
The row between junior doctors and the government is over a new contract
Talks broke down in 2014, but the dispute has escalated since the summer after ministers said they would impose the deal
Ministers offered doctors an 11% rise in basic pay last year, but that was offset by curbs to other elements of the pay package, including payments for unsociable hours - they have maintained there is not extra money for junior doctor pay
The government says the changes are needed to create more seven-days services, but the BMA warns safeguards to keep a lid on excessive hours are being weakened and also has concerns about career progression and weekend pay
A 48-hour strike is scheduled for Tuesday, 26 January - emergency cover will again be provided
An all-out junior doctors' strike is planned for Wednesday 10 February - emergency cover will not be provided
The junior doctors row explained
What exactly do junior doctors do?
---
The walkout by junior doctors happened as hospital bosses continue to play catch-up after thousands of operations were cancelled at the start of December - when doctors were first due to go on strike.
That walkout was called off at the last minute to allow talks to restart.
The NHS is meant to ensure patients are seen within 28 days of a cancellation, but that is expected to prove difficult to achieve given the numbers in the system and the fact it is winter - the busiest time for hospitals.
A spokeswoman for NHS England apologised for the disruption caused on Tuesday, saying cancelled tests, appointments and operations would be rescheduled "as soon as is possible".