Hunt apologises for NHS failings over baby death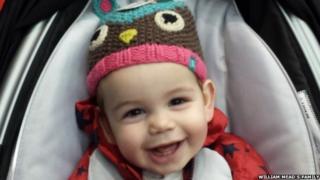 England's Health Secretary Jeremy Hunt says the NHS will learn from serious failings that led to the death of a one-year-old boy.
William Mead, from Cornwall, died in 2014 from blood poisoning that had not been diagnosed by GPs or the NHS out-of-hours 111 helpline.
In response to an urgent question in the House of Commons, Mr Hunt apologised to William's parents.
He acknowledged that there were things that needed to be done better.
Mr Hunt told MPs: "Whilst any health system will inevitably suffer some tragedies, the issues in this case have significant implications for the rest of the NHS that I'm determined we should learn from."
Analysis: The wider lessons for the NHS
The official NHS England report into William's death, seen by the Daily Mail and BBC News, says William might have lived if NHS 111 call handers, who are not medically trained, had realised the seriousness of his condition.
If a medic had taken the final phone call instead they probably would have realised William's "cries as a child in distress" meant he needed urgent medical attention, it says.
It recommends 111 call advisers get more training in what questions to ask and when to escalate cases and that GPs and the public are made more aware of blood poisoning or sepsis. Mr Hunt agrees.
Staff at the local NHS 111 service that took Mrs Mead's call have since been given extra training to recognise when cases might be more complex and need referring up.
Mr Hunt said: "When you look at the totality of what the Mead family suffered, there is a confusion in the public mind which the NHS needs to address.
"The issue is that there are too many choices and you can't always get through quickly to the help you need. We need to improve the simplicity of the system so when you go to 111 you aren't asked a barrage of questions and you get the care you need more quickly."
He said all NHS 111 centres had expert clinicians on hand to give advice, and that it wasn't appropriate for every call to be answered by a doctor or a nurse. But he said he would look at whether NHS 111 might need more of these skilled staff.
Sepsis
Sepsis is when the body's immune system goes into overdrive in response to infection
This can cause organ damage, shock, and eventual death
Sepsis is known as a 'silent killer' because it can be difficult to identify
It is common - it is the second biggest cause of death after cardiovascular disease
It can arise as a consequence of a variety of infections - the most common sources are the lung, and urinary tract
Sepsis can affect people of any age, but is most common in the elderly and the very young
Signs of sepsis include fever, breathlessness, shivering and mottled or discoloured skin