Abortion rates 'fairly constant'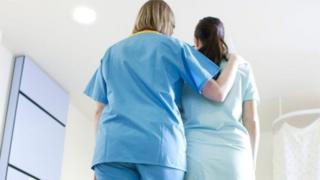 Department of Health figures suggest abortion rates for England and Wales have remained "fairly constant", with 185,824 abortions in 2015.
This is an increase of 0.7% on rates for 2014, but is 0.3% lower than those recorded for 2005.
The report shows while abortion rates have fallen for women under 30, they have risen steadily for women over 30.
And the charity BPAS says it is concerned women in this age group are underestimating their fertility.
'Risks in perspective'
Statistics show abortion rates for women aged 30 to 34 have gone up from 14.5 per 1,000 women in 2005 to 17.1 in 2015.
And the British Pregnancy Advisory Service says one reason for the rise could be that women are getting mixed messages about conception.
Ann Furedi, chief executive of BPAS, said:"There have been increasing calls in recent years around 'educating' women on the risks of waiting to start a family and growing emphasis on the problems women may face when trying to conceive.
"We must keep these risks in perspective, as BPAS sees many women experiencing unwanted pregnancy after underestimating their ability to get pregnant - because of their age, irregular periods, or a previous sexually transmitted infection."
Repeat abortions
Meanwhile, the report shows that 38% of women who had an abortion last year had had a previous termination - this proportion has risen from 32% during the past decade.
And the number of women having repeat abortions varied across different areas of England and Wales.
Officials say this might relate to local differences in the contraceptive advice women are given after a termination.
Sexual health charity FPA, says it is important for women to be given the right support following an abortion - wherever they live.
Chief Executive Natika Halil said: "I am concerned by the Department of Health's suggestion in its report that women could experience differences in post-abortion contraceptive advice, depending on where they live.
"Support for reproductive health should never be a postcode lottery for women."
The data comes after the Royal College of Midwives faced criticism for saying women who wanted a termination should not face prosecution.
The law states that a woman can face prison if she terminates her pregnancy beyond 24 weeks without medical legal authorisation.
But the RCM said it believed abortion should be removed from the scope of criminal law.
Meanwhile, Right To Life said such measures could increase the number of abortions and lead to a rise in sex-selective terminations.