Court to hear HIV Prep drug challenge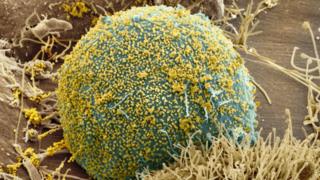 A judicial review into an NHS decision not to fund a "game-changing" drug that can prevent HIV will be heard in the High Court on Wednesday.
The National Aids Trust is challenging NHS England's decision not to routinely fund use of the pre-exposure prophylaxis (Prep) treatment.
NHS England said earlier this year that it was up to local authorities to provide it.
Using Prep has been shown to reduce the risk of HIV infection by more than 90%.
Judgement in the case is likely to be reserved to a later date.
The idea is to give HIV drugs to gay men having unprotected sex while they are still uninfected, so that the medicine is there to kill the virus when it does arrive.
It is currently used in America, Canada, Australia and France to help protect the most at risk gay men.
Access argument
NHS England has stated Prep is preventative, and so not its responsibility.
In a statement issued in May it said it had "considered and accepted NHS England's external legal advice that it does not have the legal power to commission Prep" and that under 2013 regulations "local authorities are the responsible commissioner for HIV prevention services".
And it has warned that if it prioritises Prep, there is a risk of a legal challenge from people wanting similar access to other preventative treatments.
The NAT's chief executive officer, Deborah Gold, said: "Local authorities do not have sole responsibility for HIV prevention in England.
"NHS England has a clear role in prevention. Our view, and the view of our legal advisers, is that there is nothing to prevent the NHS from commissioning Prep should it wish to.
"We are very hopeful that the court will agree with the case we are making.
"The outcome will have significant implications for future funding of public health interventions in this country, not to mention the thousands of people who need access to Prep now."