Confusion over paracetamol dosing rules for children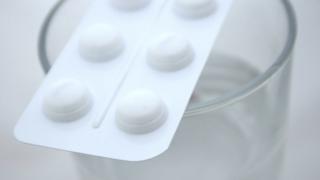 Parents have been inadvertently giving their children higher doses of paracetamol than recommended.
BBC Radio 4's You and Yours programme has found a five-year delay in getting the latest guidance on to packaging means some children have been taking up to 1,000mg more than they should.
Some tablets and capsules carry the up-to-date advice but many do not.
While the higher dose will not necessarily cause harm, the public should be aware, say experts.
In 2011, the Medicines and Healthcare Regulatory Agency changed the maximum child dose of liquid paracetamol, which is favoured for younger children, from 4,000mg a day to 750mg four times per day.
But, at the same time, it allowed paracetamol tablet and capsule manufacturers until the end of December 2016 to update the dosage guidance for children between 12 to 16.
The British National Formulary (BNF) - a reference book doctors use when prescribing medicine - has already been updated to reflect the change for both liquid and solid paracetamol.
Confusion
Mother of three Rachel Soplantila, a former paediatric nurse, from Aberdeen, came to realise she had unknowingly been overdosing her then 12-year-old daughter Naomi, after visiting her local surgery.
Mrs Soplantila was told by her doctor that, according to the BNF, her daughter had been taking an overdose of 1,000mg of paracetamol per day, for three days.
She said: "I was horrified.
"A parent needs to have a faith in the product that they are receiving, that the product is giving them clear, correct information, and, clearly, at the moment, on the backs of the packets which are on shelves at the moment, it's incorrect."
Gideon Hirschfield, professor of hepatology at the University of Birmingham, said the amount of paracetamol Naomi had been taking would not have been toxic to her.
But he told consumers: "You need to ensure what is on the back of packets is clear and up to date."
The MHRA told You and Yours it took Mrs Soplantila's concerns "very seriously and continue working to address the inconsistencies in advice on packaging to prevent further confusion for patients, parents and carers".
It said the new guidance was based on the most effective dose for pain relief and reduction of fever, rather than any safety concerns.
"Liquid paracetamol products are most usually given to children, and our priority was to ensure that the information on these products was updated," the MHRA said.
"The Commission on Human Medicines (CHM) agreed a phased approach to the implementation of the new guidelines for solid dosage forms.
"Information on the revised dosage has been publicly available since 2011."
Paracetamol is a widely used treatment for pain and fever in adults and children aged two months and over.
The MHRA estimates 84% of children in the UK receive paracetamol by the age of six months.