'I sold my house to fund cancer treatment in Germany'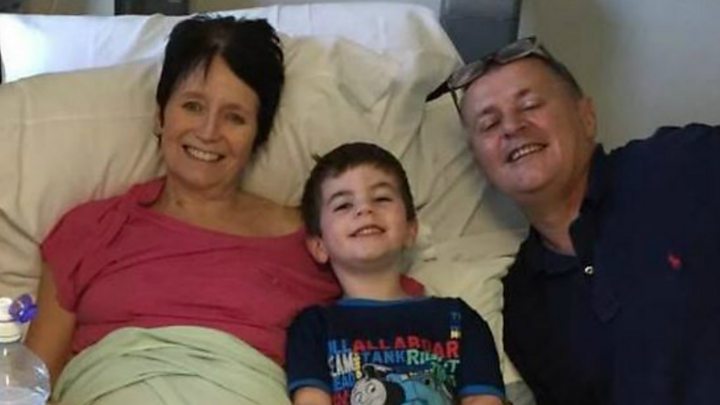 Former Emmerdale actress Leah Bracknell is to receive "cutting edge" treatment at a private clinic in Germany after receiving £50,000 in donations on a fundraising website following a terminal lung cancer diagnosis.
Ms Bracknell, who played Zoe Tate in the ITV soap from 1989 to 2005, was diagnosed a few weeks ago.
And her partner, Jez Hughes, said she wanted treatments that "are not yet available on the NHS outside of clinical trials and are very expensive".
A terminal cancer diagnosis can mean being left with only weeks or months to live.
The NHS offers palliative care, but some patients prefer to seek treatments abroad.
However, medical professionals have concerns these may not have been approved in the UK, or even trialled, and could give some patients false hope.
Medications are licensed in the UK only if they have passed robust trials, according to the National Institute for Health and Care Excellence (NICE), which approves drugs for the NHS.
Radio 5 live's Emma Barnett programme found out about the experiences of two people who chose to pay for cancer treatment abroad.
---
'I sold my house to fund my cancer treatment'
In May, Pauline Gahan, 61, was told she had stomach cancer that had spread to her lungs and liver and there was nothing the NHS could do.
After researching her options, she decided to go to a private clinic in Germany for a form of immunotherapy.
She had to sell her house, borrow money and start fundraising to pay for the treatment.
Ms Gahan has now had eight rounds of the treatment and says it has been worth every penny.
"My son did lots of research on the clinic and knew about a previous patient who had been treated there," she says.
"The initial treatment was £60,000, and I have now spent more than £300,000.
"When I first went to the clinic I could not walk, so we travelled to the clinic in a campervan.
"I'm not in remission yet but have just two discreet tumours left in my liver."
---
'We wasted thousands of pounds on private cancer treatments'
Maggie Thomas was diagnosed with breast cancer in 2009 and had a mastectomy.
During follow up tests it was found that the cancer had spread to other parts of her body and was given less than a year to live.
Her family looked into using a private clinic in Germany for "alternative" cancer treatments.
After spending around £200,000 on treatments at two private clinics Maggie died aged 46 in February 2012.
Maggie's husband David said he was apprehensive about paying for the treatment but admitted he wanted to do what he could to make his wife better.
"My wife was desperate and kept fighting to the end. The first clinic charged us £30,000 to heat up the tumour but that didn't work.
"We also spent more than £100,000 at another clinic but my wife didn't live a day longer than was originally expected.
"I'm still paying off the debts now", he said.
---
'No evidence'
Prof Karol Sikora, who has been at the forefront of cancer treatment for the past 40 years, says some clinics can, in some circumstances, feed patients false hope.
"People with cancer get desperate and upset and grab on to anything which might help them," he says.
"The problem is that some of the treatment will work, but we have no evidence to prove it."
But Prof Alexander Herzog, who has treated hundreds of British patients at his private oncology clinic in Germany, says all the treatments he uses, which include immunotherapy, have proven benefits published in studies.
He criticises the "limitations of the NHS providing certain treatments and not being open to new approaches", saying his clinic can successfully treat UK patients who have been "given up on over there with just weeks to live".
---
What is immunotherapy?
Normally the immune system spots and destroys faulty cells - including cancer cells - but sometimes these can escape detection and develop into tumours.
Instead of targeting the cancer cells themselves, as many traditional cancer drugs do, immunotherapy reawakens the immune system so it can "remember" the cancer and stop it in its tracks.
A number of immunotherapy treatments are already showing considerable promise and some have already been approved by NICE for treating cancers, such as skin cancer, on the NHS.
---
BBC Radio's 5 live Daily programme is on air from 10:00-13:00 Monday to Friday.