Diabetes Dance Dare raises awareness of disease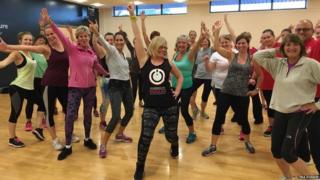 Move over Ice Bucket Challenge, there's a new kid in town and it's called the Diabetes Dance Dare.
Fitness instructor Tina Donkin was asked to launch the #DiabetesDanceDare campaign in the UK by the online community network Diabetes.co.uk, after she ordered a "Powered by Insulin" vest to wear in her classes.
She then asked her Zumba class to get involved, and the clip of them dancing to the Rocky Horror Show's Time Warp had 30,000 views on Diabetes.co.uk's, Facebook page.
Since then, she's had many videos posted on her timeline, and some great responses, including from a woman who had gestational diabetes (GD).
"It's such a good idea. I've had type 1 diabetes for 34 years so it's close to my heart," Tina told the BBC.
"I took on the challenge and have been tweeting celebrities and TV shows left, right and centre. I do hope the message is spread far and wide. It's about awareness and fun too. It's not all about obesity. Diabetes can affect anybody.
"I just need one famous person to take the challenge here and I'm sure it will take off. Paige, who, is in my dance class, even sent a request to President Obama! She's not heard back yet!"
The campaign started in the US by the American Diabetes Association (ADA) to get people dancing and spreading the word about diabetes using social media. Their challenge was to post a 23-second video to raise awareness of the disease.
According to the ADA, every 23 seconds someone in the US is diagnosed with diabetes. Several celebrities took part in the US, including the singer Kelly Clarkson:
US singer Usher's dance clip had 1.5 million views on his Facebook page.
Kay Trimm of Clog Wild Cloggers, a dance group in Alabama, also stepped up to the challenge.
"I received an email from ADA and decided to do this," says Kay. "I was diagnosed with type 2 diabetes a couple of years ago so this is close to my heart. I wanted to challenge fellow cloggers to dare and donate.
"I'm on a strict 'no-carbs' diet, which has really helped. Exercise and diet is key. I refuse to take a shot, and I eat what I want. I have one pill a day. Once I've lost more weight I can come off it completely."
By Sherie Ryder, UGC & Social News team.