Junior doctors lift threat of strike action over contract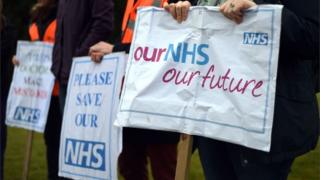 Junior doctors have called off the threat of future industrial action and said they will "re-engage" with the government over their new contract.
The British Medical Association (BMA) junior doctors' committee said the move involved ending its mandate for industrial action.
This means it would have to re-ballot members before any future industrial action could take place.
The government said the BMA's decision was "welcome news".
The announcement comes a week after the juniors' leader Dr Ellen McCourt resigned from her post.
Dr Mark Porter, head of the BMA Council, told BBC Radio 4's Today programme: "We need to move ahead, work with the government and employers on protecting our members as they move across to this contract."
'Fair approach'
The BMA has held a series of strikes over introduction of the new contract.
But it cancelled further planned strikes in September after health service leaders said the NHS would not be able to cope with the walk-outs, and that patient safety would be at risk.
The committee has now said it will work with Health Education England and NHS Employers, as well as the government.
Dr Peter Campbell, acting chairman of the junior doctors' committee, said he wanted to work on ensuring a "fair approach to weekend pay" and "the safety of patients and doctors under the new contract".
A BMA spokesman added: "The BMA believes the best way forward for junior doctors, patients and the NHS is to closely monitor the implementation of the contract, and to work with the government and NHS employers to address any issues and concerns highlighted during this process.
"In this way, we can hold both the government and NHS employers to their commitments on safe working, high-quality training and the promise to address wider morale and workforce issues."
A Department of Health spokeswoman said: "It's welcome news for patients that the BMA has now completely called off industrial action.
"The NHS is getting on with the job of implementing this contract and we are determined to make sure junior doctors are supported during this process."