Could private investors fund a new wave of hospitals?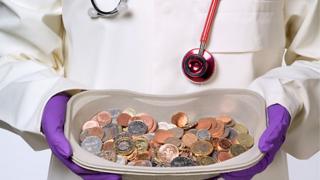 The NHS in England is under financial strain. Keeping control of day-to-day spending has proved immensely challenging. Now its emerged that health service leaders have turned to private sector financiers to fund repairs and modernisation of hospitals. So how realistic is the involvement of private money and could there be a repeat of the mistakes made with the controversial Private Finance Initiative (PFI)?
Budgets for investment, known as capital, have been raided in recent years by the Department of Health to help hospitals and other trusts in England cover their running costs. NHS leaders are now pushing for investment to allow them to repair decaying buildings, upgrade facilities and fund new plans to develop care in local communities. If central government funding is limited, they argue, the alternative is private finance.
Jim Mackey who heads the financial regulator NHS Improvement, along with other health service officials, has had discussions with private financial institutions. My understanding is that they are at the conservative end of the spectrum, for example pension funds, rather than the racier speculators seen in dramas like "Billions".
Pension funds and other long term investors are always looking for secure long term havens with a regular stream of income. They are already pursuing public sector infrastructure schemes and have now expressed a willingness to lend money for health service building projects.
Mr Mackey recently told Health Service Journal: "An NHS Fund could power the improvement needed to sort out problems at our hospitals and to drive the change required to get the NHS ready for future challenges. If we are open to new ideas then we could really be in business."
So how much money might be needed?
A leading former hospital chief executive Sir Robert Naylor recently produced a report for the Department of Health which argued that without investment "the NHS estate will remain unfit for purpose and will continue to deteriorate". Sir Robert said that £10 billion was required both for backlog maintenance work and transforming services, £5 billion of which might be raised by selling off unwanted properties. That leaves a £5 billion gap to come from somewhere.
It all sounds straightforward but these things often do. The Treasury has to be convinced that the sums add up and to that end are in talks with Mr Mackey and his NHS colleagues. Officials are haunted by the memory of the original PFI which delivered sparkling new hospitals but with numerous strings attached. Taxpayers came out badly from the original PFI deals and the costs will mount up for hospitals over decades.
Some will argue that the obvious answer to NHS funding challenges is higher public borrowing. The interest rates which HM Government pays on its debt are at or close to historic low levels. If the Treasury can borrow cheaply to invest in hospitals, why involve the private sector which will need to build a profit margin into any deal with the NHS?
Whitehall sources indicate that Mr Mackey's talks are at an early stage and nothing has been approved. They point out that the Chancellor Philip Hammond did announce new capital investment for the NHS in the Budget and has promised more in the Autumn Statement. But at a time when he is trying to keep deficit reduction on track, borrowing a lot more for the NHS may have limited appeal for Mr Hammond.
The £5 billion investment challenge for England's hospitals is out there. NHS leaders know that it needs to be addressed and that the private sector could help. The question now is whether ministers and Treasury mandarins can trust them to do the right deals and, if not, where the money might come from.