Charlie Gard: The story of his parents' legal fight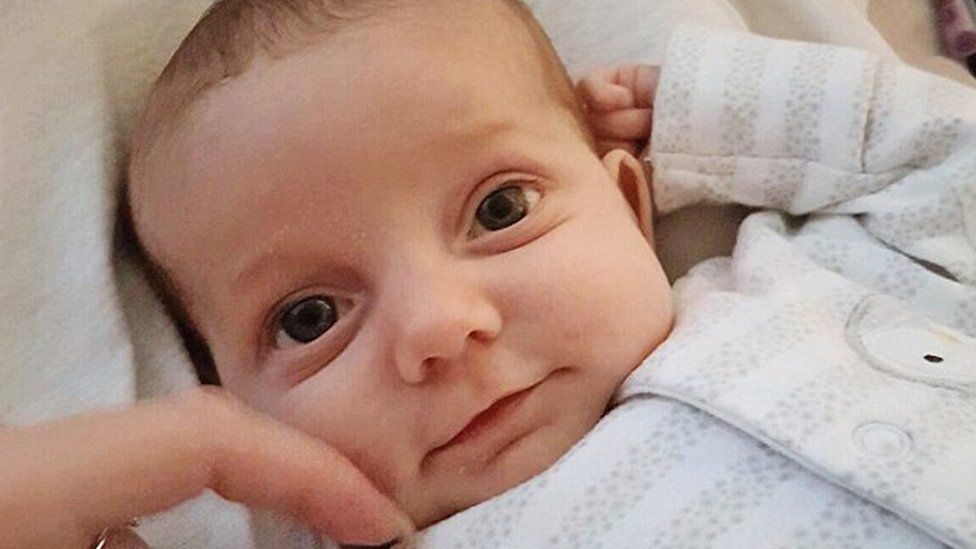 The plight of Charlie Gard attracted worldwide attention as a result of the legal fight that pitched his desperate parents against the medical profession. But at the heart of it all is an 11-month-old baby who has spent his entire young life in a hospital bed. This is how his story unfolded.
Charlie was born on 4 August 2016 with an exceptionally rare genetic condition called encephalomyopathic mitochondrial DNA depletion syndrome (MDDS).
Although he appeared perfectly healthy when he was born, his health soon began to deteriorate.
Great Ormond Street Hospital (GOSH) said the moment Charlie was diagnosed, his prognosis was bleak.
Charlie now has severe brain damage and cannot open his eyes or move his arms or legs. His condition also means he is unable to breathe unaided, which is why he needs to be on a ventilator.
His heart, liver and kidneys are also affected, and his doctors say it is not clear if he feels pain.
Why did his parents want to go to the US?
Charlie's parents, Connie Yates and Chris Gard, from Bedfont in west London, wanted Charlie to have an experimental treatment called nucleoside bypass therapy (NBT).
The treatment is not invasive and can be added to food.
Why did GOSH rule out the treatment?
No animal or human with Charlie's condition (RRM2B deficiency) has been treated with NBT, but the treatment has been previously offered to patients with a similar genetic disorder, TK2 deficiency.
But TK2 affects just the muscles, whereas Charlie's condition also affects other organs and his brain.
GOSH did apply for ethical permission to attempt nucleoside therapy on Charlie.
However, by the time that decision was made Charlie's condition had greatly worsened and the view was his brain damage was too severe and irreversible for the treatment to help.
After contacting other experts in the condition from medical centres across the world, doctors came to the conclusion that Charlie's life support should be switched off and he should be allowed to die with dignity.
What happened in the courts?
Charlie's parents disagreed with the hospital and did not want his life support to be withdrawn, so doctors applied to the High Court for judges to decide Charlie's future.
In April, the High Court agreed with the GOSH doctors.
Charlie's parents then appealed against the decision, but courts ruled the original decision should stand and it would be in Charlie's best interests to be allowed to die with dignity.
The Supreme Court and the European Court both came to the same conclusion.
How the campaign became world news
Although Charlie's parents had seemingly exhausted all legal avenues, two prominent figures ensured Charlie's case became world news: Donald Trump and the Pope.
A statement released from the Vatican said the Pope "expresses his closeness to his [Charlie's] parents".
"For them he prays, hoping that their desire to accompany and care for their own child to the end is not ignored," it said.
The US president then offered his support, tweeting: "If we can help little #CharlieGard, as per our friends in the U.K. and the Pope, we would be delighted to do so."
If we can help little #CharlieGard, as per our friends in the U.K. and the Pope, we would be delighted to do so.

— Donald J. Trump (@realDonaldTrump) July 3, 2017
After his tweet, the US doctor offering the therapy, Professor Michio Hirano from Columbia University Medical Center, was contacted by the president's team to see if there was anything more that could be done.
On 6 July, the professor co-signed a letter with other medical experts which suggested unpublished data showed therapy could improve the 11-month-old's brain condition.
They claimed that "ideally" the treatment would first be tested on mice but said that, in Charlie's case, there was no time for such a trial.
Why did the case return to the courts?
Under the initial High Court ruling, Charlie was not allowed to be transferred anywhere to be treated so it asked the court to examine the new evidence.
What has the public reaction been?
Charlie's plight has proved to be very divisive.
Some people felt Charlie should be allowed to die with dignity, while others have disagreed with the doctors, arguing Charlie's parents should be allowed to decide where he is treated.
At one point the hospital said staff had received death threats and police had been called after other families, whose children were being treated at the hospital, had been harassed.
Charlie's parents said they did not condone the abuse and had also faced "nasty and hurtful remarks".
Why was the therapy eventually ruled out by the US doctor?
The scan had shown there was no muscle at all in parts of his body.
After hearing this, Charlie's parents decided to abandon the legal proceedings and ruled out taking him to the US.
They believe he could have lived a normal life if he had been given treatment earlier, but said they now wanted to treasure the short time they had left with him.
In its statement to the High Court on 24 July, the hospital said it was "increasingly surprised and disappointed" that Professor Hirano "had not read Charlie's contemporaneous medical records or viewed Charlie's brain imaging or read all of the second opinions about Charlie's condition".
GOSH said the professor had not taken the opportunity to see Charlie until last week, despite being offered the chance to do so by the hospital in January.
Even though the professor gave written evidence at all of the court cases, the hospital said it only emerged last week that he had not read the judge's ruling following the first High Court hearing in April.
The hospital added it was concerned to hear the professor state in the witness box at the High Court hearing on 13 July that he had a financial interest in some of the treatment he proposed prescribing for Charlie.
Professor Hirano said in a statement on 25 July he had "relinquished" that financial interest.
What happens to Charlie now?
Charlie's life support will be withdrawn at a hospice but lawyers acting for Charlie's parents were in dispute with doctors over the detail of care plans.
Chris Gard and Connie Yates had applied to the High Court to keep Charlie alive for "a week or so" - longer than originally planned.
But a judge ruled that Charlie would be moved to a hospice to spend his final few hours before the ventilator that keeps him alive is switched off.
Timeline of Charlie's case
3 March 2017: Mr Justice Francis starts to analyse the case at a hearing in the family division of the High Court in London
11 April: He says doctors can stop providing life-support treatment
3 May: Charlie's parents ask Court of Appeal judges to consider the case
23 May: Three Court of Appeal judges analyse the case
25 May: The Court of Appeal judges dismiss the couple's appeal
8 June: Charlie's parents lose their fight in the Supreme Court
20 June: Judges in the European Court of Human Rights start to analyse the case, after lawyers representing Charlie's parents make written submissions
27 June: Judges in the European Court of Human Rights refuse to intervene
3 July: The Pope and US President Donald Trump offer to intervene
4 July: The Vatican's children's hospital in Rome, offers to take in Charlie
7 July: Great Ormond Street Hospital applies for a fresh hearing at the High Court
10 July: Charlie's parents return to the High Court and ask Mr Justice Francis to carry out a fresh analysis of the case. Mr Justice Francis says he will consider any new evidence.
17 July - Dr Michio Hirano, the US neurologist, travels to London to examine Charlie
21 July - Lawyer representing Great Ormond Street says Charlie's new scan makes for "sad reading"
22 July - Great Ormond Street says doctors and nurses have been subjected to abuse and received threatening messages
24 July - Charlie's parents say they will end their legal fight for his treatment and let him die
27 July - A judge rules that Charlie will be moved to a hospice to spend his final hours before the ventilator that keeps him alive is switched off.