Powerful painkiller use 'doubled in 15 years'
By Dominic Hughes
Health correspondent, BBC News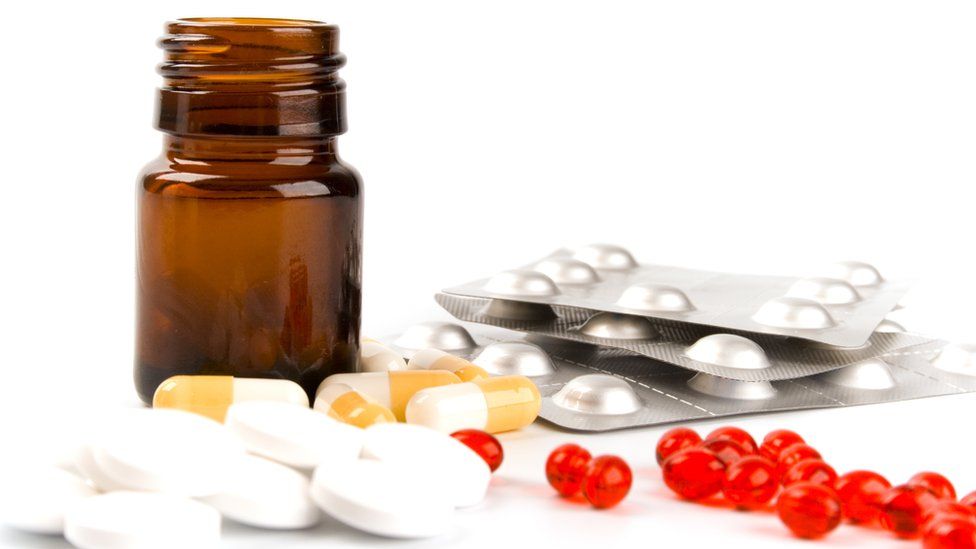 The use of potentially addictive painkillers across England has doubled in the last 15 years, according to a report by leading public health experts.
Researchers found one in 20 people was being prescribed opioid painkillers, such as codeine and tramadol.
They also found that drugs were being prescribed for longer periods of time.
Experts say long-term use leads to a risk of addiction while the benefits become greatly reduced.
A routine prescription drug led James to the brink of destruction.
His problems started with severe stomach aches but the painkillers he was prescribed quickly stopped working.
Desperate for pain relief, he was soon spending £400 a month on additional supplies from online pharmacies.
'I was basically a drug addict'
James went from taking eight pills a day to 50 - and almost before he knew it, his life had spiralled out of control.
"A few months before, I was just this normal guy working full time, kids and a wife and happy, then all of a sudden I am basically a drug addict.
"I thought it would be fine. I thought I would be on these tablets short term, but then before I knew it, I couldn't get off them."
For James, the side-effects were terrible - headaches, nausea, constipation - and then a series of seizures that he feared would end his life.
"They can ruin your life without you knowing because I do believe that probably within a year - taking the same amounts or increasing - they probably would have killed me."
James is now getting help to deal with his crippling addiction through a programme run by his council and a local GP practice.
Research in just a handful of GP practices where he lives in Scunthorpe alone identified more than 100 people dependent on painkillers.
But responsibility for helping them falls between the NHS and local councils, and schemes like the one James is on are rare.
It looked at those who had been prescribed at least one of four types of potentially addictive drugs - known as Dependence Forming Medicines - between 2000 and 2015.
The biggest single group of drugs were opioid painkillers which can help relieve pain for cancer patients or those with short-term needs.
The data shows more people are being prescribed these powerful medicines.
In 2015, 5% of patients were receiving regular prescriptions, double the rate when compared with 2000.
Neil Smith, research director at the National Centre for Social Research, said: "This report highlights that a balance needs to be struck between avoiding prescribing that might lead to dependence or other harms and ensuring proper access to medicines to relieve suffering and treat disorders.
"Trends in the extent and duration of opioid prescribing… need close and ongoing monitoring."
Doctors say that for short-term use, opioid painkillers, such a tramadol, codeine or morphine can be very effective.
But when used over a longer period of time the body develops a tolerance and so that effectiveness declines.
They also come with side-effects including headaches, nausea and constipation as well as being potentially highly addictive.
Experts warn that no-one should stop their medication before seeking the advice of their GP.
But Dr Cathy Stannard, a specialist in pain management, says it is clear that patients using opioid drugs for a long time are often getting little benefit, but suffer all the side-effects.
"I am not suggesting somebody who is benefiting has their drugs removed.
"But out of a population who are taking these drugs, the majority are not benefiting and they should be supported to come off these medicines."
Today's report doesn't contain hard data on addiction but it does indicate there is a growing need to closely monitor the use of these powerful drugs.
Related Internet Links
The BBC is not responsible for the content of external sites.