How I've learned to live in constant pain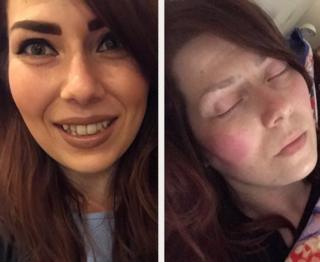 Alison Morton was 25 years old when she started experiencing pain in her muscles and joints.
Doctors removed her gall bladder - but after symptoms didn't improve, she was eventually diagnosed with fibromyalgia, a widespread condition that affects the musculoskeletal system.
Four years on, it leaves her with "profound fatigue" and constant pain.
"When you get diagnosed, you think that there will be something that can be done," she says.
"But unfortunately there's no cure.
"It literally takes over my body and I can't control it. I'm just out of it."
People with the illness say it feels like their muscles are pulled or overworked. Their muscles can twitch and burn.
Invisible illness
Alison experiences "brain fog", struggling to remember names, directions and "getting very confused a lot of the time". It prevents her from working.
She says one of the biggest difficulties is that it is an invisible illness and not immediately apparent.
"You're 25, you look like a normal 25-year-old woman, but inside there's a lot going on.
"Your central nervous system is all affected, but it's hard to see that, and that's hard to explain."
This means it can take some people a long time to be diagnosed.
"There are still a lot of GPs that don't believe it's a real condition," Alison says.
This is despite some estimates suggesting nearly one in 20 people may have the condition to some degree.
After she was diagnosed, Alison's rheumatologist referred her to Newcastle Pain Management.
"They completely changed my life," she says, teaching her ways to prepare mentally to be in pain for the rest of her life.
"There's a lot of grieving to do - lots of little things can bring it up, when you realise you can't do something," she says.
She worked with a physiologist and a pain psychologist.
"It's all about pain management, making the pain less so you can still have a fulfilling life," Alison says.
For Alison, this means yoga stretches, medication and a machine that stimulates her nerves with electricity.
"Mindfulness has really helped me to deal with the emotions that come up when you have to deal with persistent pain."
Managing pain
She also writes lists to cope with her memory loss.
"Everyone reacts differently to different pain management techniques. For example, exercise might work for some but not for others," she says. "So, it's hard to break down those perceptions as well."
Despite the strategies, Alison's pain is still constant and can flare up when triggered by stress or doing too much.
She says she could not have got through it without the help of her loved ones.
"My family has been so supportive, especially my dad. I've been very lucky in that sense."
Telling her story has also helped. She has recently moved to Darlington with her boyfriend and chairs Newcastle's fibromyalgia awareness group.
She says: "Compared to when I first got diagnosed, I feel now I am able to live a much more fulfilled life."
For more information visit: http://www.fmauk.org/