Nerf guns can lead to serious eye injuries, doctors warn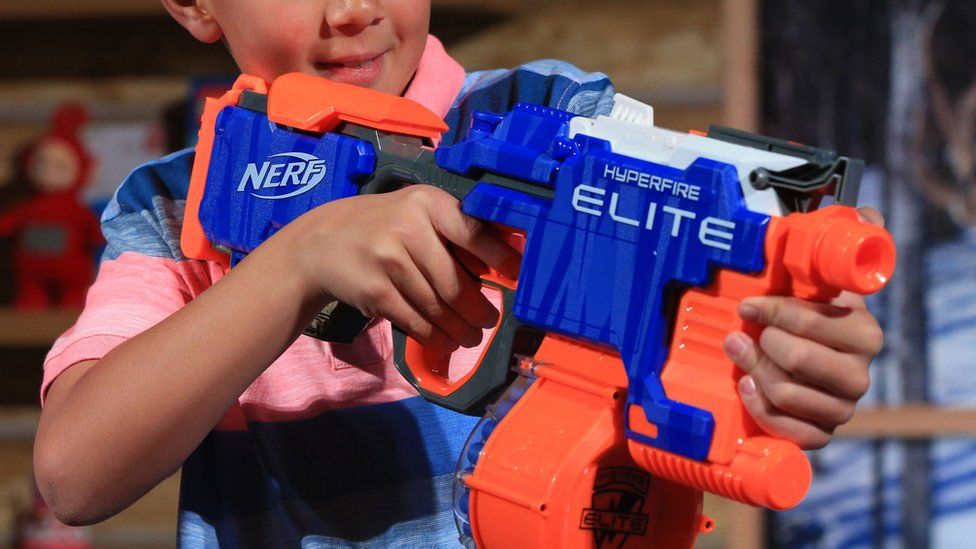 Bullets from Nerf guns can cause serious eye injuries, doctors from a London eye hospital are warning.
They treated three people with internal bleeding around the eye, pain and blurred vision after they were shot with the toy guns by children.
Writing in BMJ Case reports, the doctors recommended wearing protective eye goggles and said the safe age limit for the guns may need to be reviewed.
Hasbro warns players not to aim Nerf guns at the eyes or face.
The company said its products had all gone through rigorous reviews and testing to assure they were safe and fun to play with.
On its packaging, it also advises that only branded bullets designed for the product should be used.
Nerf guns, made by Hasbro, are designed for children aged eight and over.
The company also sells replacement bullets or darts - but cheaper versions are also available online from other retailers.
Eye experts, from Accident & Emergency at Moorfields Eye Hospital, said the unlabelled bullet heads were harder and could potentially cause more damage - something that parents may not realise.
'I thought I'd lost my vision for good'
Sarah Smith and her husband were "messing around" with their children's Nerf guns in January when he accidentally shot her in the eye at close range.
She said the impact immediately caused the vision in her eye to "go black", as if someone had "squirted black ink" into it.
"It's excruciating pain and just really frightening because of the loss of vision," she said.
"I thought I'd lost my vision for good."
After about 20 minutes the vision returned but remained blurry with occasional "flashes of light".
Sarah was taken to A&E the next day, where they told her she had suffered a flattened pupil.
She said it took six months for her sight to return to normal.
The guns are now locked away and can only be used by Sarah's sons, who are four and five, when they are supervised and wearing eyewear.
"They are dangerous. For children to use them they have to have goggles as well," Sarah added.
Natalie Hearn-Smith's seven-year-old son was accidentally shot in the eye at "point blank" range by one of his friends.
"I heard his shrill scream, and I screamed and ran into the other room," Natalie said.
"I see him on the floor cowering, saying 'mummy, mummy, mummy, my eye...'
"He looked like he'd been 10 rounds in a fight. It was awful."
Natalie said her son had to have two appointments at a specialist eye hospital and then had to take antibiotic eye drops and cream.
His eyesight has since returned to normal, but she has now banned the guns from her house.
"He has been very, very lucky."
In their report, they describe the injuries of two adults and a child in separate incidents linked to Nerf guns.
One 32-year-old man was shot in the eye from eight metres away by a child with a Nerf gun. He suffered blurred vision and a red eye.
A 43-year-old woman was shot in her right eye from a distance of one metre and complained of blurred vision and a red, sore eye.
An 11-year-old child also suffered a shot in his right eye from a distance of two metres, and complained of pain and blurred vision.
He developed swelling of the outer layer of the eye (cornea), and the inner layer of the eye (retina), from the force and speed of the bullet fired by the gun.
All the patients were examined and treated with eye drops, the researchers said.
Check-ups after a few weeks showed that their sight had returned to normal.
While it was good news for the three patients, the doctors said that projectiles like Nerf gun bullets travelling at speed could cause long-term loss of vision.
One patient told the doctors that there were "numerous online videos which show children how to modify their guns to make them shoot harder, faster and further distance".
They added: "This case series emphasises the seriousness of eye injury from Nerf gun projectiles and calls into consideration the need for protective eyewear with their use."
But they said more research was needed to find out if eye injuries were on the rise as a result of toy guns.
The authors said they could not advise on a safe distance for shooting to avoid eye injuries on the basis of three patients.
A statement from Hasbro said product safety was of "utmost concern" to the company.
It said: "NERF products are designed based on years of consumer insights and research, and undergo rigorous reviews and testing to assure that they are safe and fun to play with, and meet or exceed global standards and regulations.
"NERF foam darts and foam rounds are not hazardous when used properly. Consumers must never aim NERF blasters at a person's eyes or face, should only use the foam darts and foam rounds designed for specific NERF blasters, and never modify darts or blasters.
"There are darts available to buy claiming to be NERF compatible, however these darts are not NERF-branded and may not meet safety standards and regulations."
Related Internet Links
The BBC is not responsible for the content of external sites.