Doctors warn of rare but serious liposuction complication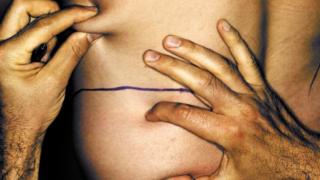 Doctors are highlighting a rare but serious complication of liposuction, which can lead to fat globules entering the lungs.
They reported on the case of a 45-year-old woman who developed respiratory failure after fat was sucked out of her lower legs and knees.
She recovered from the life-threatening condition, the Birmingham medics said.
Liposuction is increasingly common in the UK and being carried out in higher risk patients, the BMJ report said.
Dr Adam Ali, from Sandwell and West Birmingham Hospitals intensive care unit, said no previous case of fat embolism syndrome (FES) had been reported in the UK before.
But he said it was important to consider the possibility that it could occur.
The patient in question had been morbidly obese and had undergone a gastric bypass before having liposuction to help her become more mobile and start to lose weight.
But 36 hours after the operation, she became very unwell with serious breathing problems and was transferred to intensive care.
Thanks to the prompt actions of doctors, she was sedated and ventilated. She was discharged from hospital three weeks later.
The report said recognising and diagnosing FES was "a significant challenge" for most doctors because there were few obvious symptoms.
What is liposuction?
It is a cosmetic procedure where fat is sucked out of the body from areas where it is hard to shift, such as the thighs, hips and tummy.
It works best in people who are a normal weight and in areas where the skin is tight.
The results normally last for a long time, providing a healthy weight can be maintained.
But there are side-effects and NHS Choices describes how liposuction can sometimes go wrong.