Calls for Amazon to ban 'anorexia hoodie'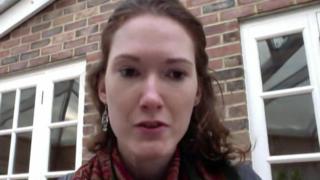 Amazon has been described as "irresponsible" for selling a hoodie that describes anorexia as "like bulimia, except with self control".
One woman living with anorexia said it could "damage" the mental health of those with the conditions.
Anorexia expert Dr Susie Orbach told the BBC's Victoria Derbyshire programme the online retailer should "remove it immediately".
Amazon said the hoodie was not sold on its UK website.
It has previously been criticised for stocking T-shirts which say: "Keep calm and rape a lot".
'Extremely damaging'
Beth Grant, who has lived with anorexia for 13 years, said selling the product was "absolutely disgraceful".
"It could be extremely damaging to anyone suffering with either bulimia or anorexia," she told the BBC's Victoria Derbyshire programme.
"I think it could damage their mental health even further and cause them to potentially harm their life."
Dr Susie Orbach, a psychotherapist and expert on anorexia, described the hoodie as "a way to make people feel really awful" when they were "already anguished enough".
"This is terribly irresponsible on Amazon's part," she said.
"We're breeding a culture [where people think] you should transform your body, you should comment on it, and if it isn't the way you want it to be it's got to be some other way."
Dr Orbach called for Amazon to "remove it immediately".
"They really don't need to be making money this way," she added.
Amazon declined to offer a statement, but a spokesman said the hoodie was not available to buy from the company's UK website.
Beth Grant said this would make little difference to those with anorexia or bulimia.
"You can still see it on the internet," she said.
"It can still harm them, even if they're not wearing it.
"I think they should issue a statement saying it is 'so sorry it's on our website'."
Watch the Victoria Derbyshire programme on weekdays between 09:00 and 11:00 on BBC Two and the BBC News channel.