Are men forgotten in miscarriage?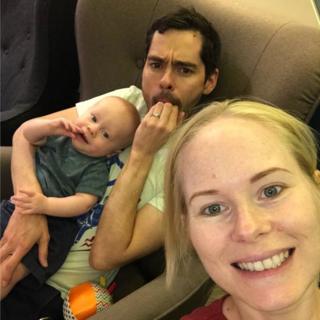 One in four couples who discover they are pregnant have a miscarriage, but men are often forgotten both in terms of emotional support and as the potential cause. But researchers are working on a treatment which focuses on how their health could affect pregnancy.
James Barnett and his partner endured seven miscarriages before successfully having a son, Samuel, who is now nine months old. Despite their ordeal he says he only cried in front of his wife once.
At their 12-week scan the couple found the baby had no heartbeat and were sent home with drugs to induce the miscarriage. Within a few hours of agony on their bed, Joanna delivered the baby.
"She passed it to me and I looked at it and that really was the first time it hit home that this was a baby," he told the Victoria Derbyshire programme.
"I was so upset, the potential this baby could have had, what it could have been, what it could have achieved. And I broke down, just to see it in front of you, just what it could have been."
Supportive figure
Men say they can find themselves overlooked in terms of the emotional impact of miscarriage.
Gareth Watkins, whose wife Jo had three miscarriages before their two-year-old daughter Jessica, said he found explaining how he felt to others was the hardest thing.
"I'd make an excuse to go out to the shops just so I have ten minutes were I could compose myself, even crying sometimes, just out there on my own just trying to work through it. Just so you can go back into the house, try and be that supportive figure for your partner who's obviously in bits with what's gone on," he said.
And despite the fact that one in 100 couples will have three or more miscarriages, some men say the emotional support available from medical professionals is "next to nothing" unless you are able to pay for it.
Al Ferguson has three children, but has experienced six miscarriages. He said very little support is offered to couples afterwards: "There's no follow-up appointment. [It would help] even if there was just one appointment or something which the GPs could do, to ask 'how's it going?'"
Prof Lesley Regan, president of the Royal College of Obstetricians and Gynaecologists says the lack of care for men comes down to resources.
"Offering counselling and bereavement counselling often in this cash-strapped NHS that we're working in at the moment, is difficult, and it's maybe the one thing that's considered, for example in the clinic I'm running, to be non-essential," she said.
"I would have to prioritise the investigative tests I'm doing and try and encourage the couple to find the support and the counselling from other sources, from family, from friends."
'Incredibly optimistic'
Often miscarriage is caused by problems with chromosomes, but one of hardest things for parents is not knowing why it has gone wrong.
But last year the UK's first national research centre dedicated to understanding miscarriage opened at Birmingham Women's Hospital. It is funded by Tommy's baby charity, in partnership with the University of Birmingham, the University of Warwick and Imperial College London.
One of the researchers is Dr Jackson Kirkman-Brown, who said around half of miscarriages currently have no explanation. But they think a lot may be due to the male's sperm.
"Until now, everybody has thought, after the man has got the lady pregnant, that's the end of his role. And if she loses the child, that's something that's wrong with her. Our research is really starting to turn that on its head. Now we think around half the time we can't find an answer about miscarriage, it may be down to sperm DNA," he said.
The researchers have developed a dietary supplement which they hope to be able to give to those men to correct the problem in how they make sperm.
"If we get the trial data to support this supplement working, we'd aim to have it out there on the market within a very few years to treat these problems," Dr Kirkman-Brown said.
'Incredibly optimistic'
"We're incredibly optimistic about this research, and excited to push through to the next stage. We estimate that tens of thousands of miscarriages each year in the UK may be down to a male factor so we hope if we could correct that, perhaps 10,000 babies more a year would be born that otherwise would have had a miscarriage."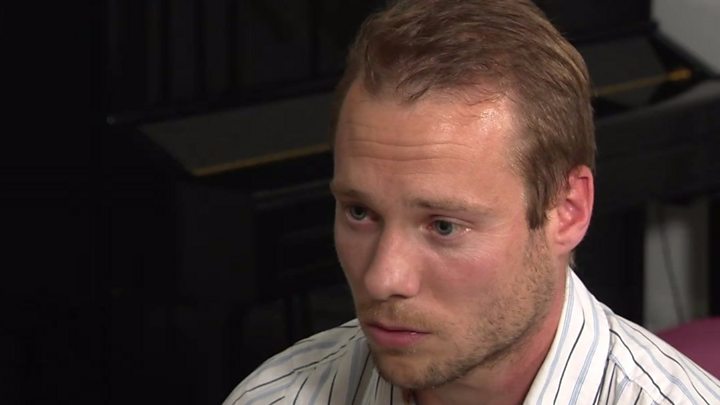 Simon Webb and his wife Kate experienced three miscarriages while having their two sons. Simon said the development sounded amazing, but he remains cautious.
"You listen to the news and you hear of it all time, 'they've found a cure for this, they've found a cure for that'. When they actually find that cure, then you can start really believing," he said.
"I would like to have another child. I'd find it hard, but going through the experience and actually having a child, gives me that hope."
Watch the Victoria Derbyshire programme on weekdays between 09:00 and 11:00 on BBC Two and the BBC News channel.