'If it's not normal for you, get it checked'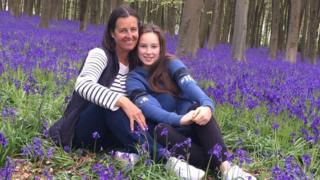 Alison Farmer was diagnosed with ovarian cancer at the age of 40. Luckily, it was caught early. Here's the story of how she recovered - and went on to have her daughter.
"I'd had a little bit of mid-cycle bleeding - which isn't one of the most common symptoms. That was all I had.
"The GP said that all women get it. But it wasn't normal for me - and I think it's really important that any gynaecological symptom should be followed up if it's not normal for the woman."
She was referred for a hysteroscopy test to check her uterus and an ultrasound - and that found a cam growth. It was graded as a 1C - an early stage of cancer.
Alison, who now works as a psycho-oncology nurse specialist, says it was only because she was "a nurse and quite assertive" that she felt able to push for tests.
But she says all women should insist on having unusual symptoms checked out.
"If it's not usual for you, be assertive and ask to see a gynaecologist."
What to watch out for
persistent bloating
Feeling full quickly and/or loss of appetite
pelvic or abdominal pain
needing the toilet more urgently or more often
Other signs can include:
diarrhoea or constipation
feeling particularly tired
unexplained weight loss
These symptoms need checking, particularly if they are:
happening more than 12 times a month
persistent
not normal for you
And any bleeding after the menopause should always be investigated by a GP.
Source - Target Ovarian Cancer
Women with ovarian cancer may be advised to have their womb, cervix, ovaries, fallopian tubes and omentum (a sheet of fat that protects the abdominal organs) removed, depending on the stage and grade of their cancer.
But Alison wanted to keep her womb.
"My surgeon - who was a gynaecological oncologist - was brilliant. He said, 'I know you still hope to have a family. While we normally wouldn't recommend it, I'm going to offer you that choice.' Some surgeons would have said, 'It's all coming out.'"
Alison had surgery to remove her ovaries, fallopian tubes and omentum.
Two years later, she became pregnant with her daughter Phoebe, who is now 13.
"I was completely over the moon.
"When I was diagnosed, I didn't even think I would die. What I was most concerned about was having a baby.
"It might seem bizarre, but it was more important than my life."
Annwen Jones, chief executive of the charity Target Ovarian Cancer, which is campaigning for more research into the disease, said: "Two-thirds of women are diagnosed at a later stage, once the cancer has already spread, making it harder to treat.
"We need to see more women fully aware of the symptoms of ovarian cancer so they can be diagnosed earlier, and a boost in investment into ovarian cancer research.
"This will transform the lives of more than 25,000 women in the UK who are living with ovarian cancer, and thousands more who are yet to be diagnosed."