Rotten teeth 'more likely' in deprived areas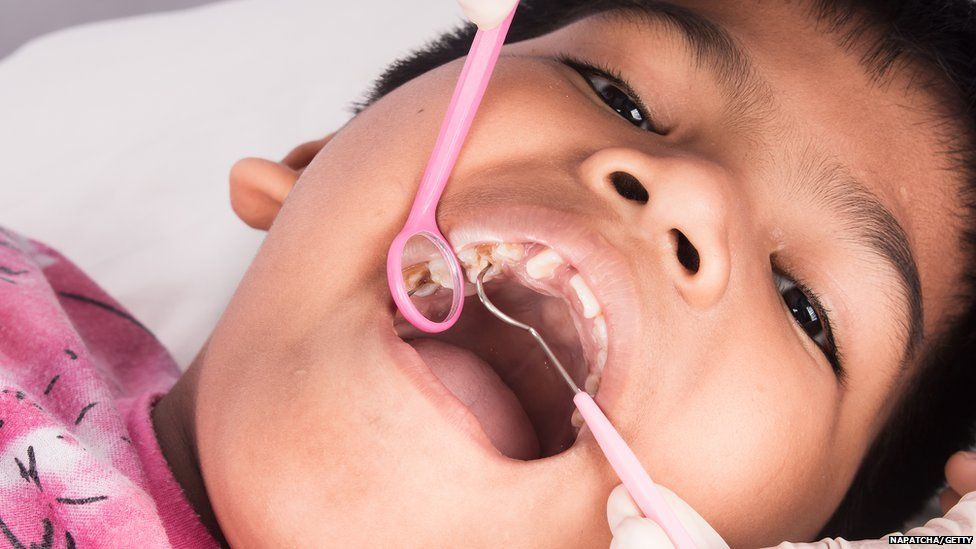 Children from Blackburn are four times more likely to have fillings than their counterparts in South Gloucestershire, says a new report on dental health.
The report found that as well as there being a regional divide, there was a consistent gap between the dental health of the rich and poor in England.
People from the most deprived backgrounds were twice as likely to be admitted to hospital for dental work.
But the Nuffield Trust report found an overall improvement in dental health.
The statistics revealed a significant variation across England, both geographically and socio-economically.
On the whole, dental health is better in the south and east of England, and poorer in the north of England - although London is the exception to this rule.
Between 2008 and 2015, the proportion of five-year-olds with experience of tooth decay fell by a fifth.
However, the proportion of five-year-olds with missing, decayed or filled teeth ranges from 14% to about 57% across English local authorities.
Data from 2014-15 reveals that in the least deprived areas, 83% of five-year-olds had healthy teeth (with no tooth decay) compared with 70% in the most deprived areas.
In another example from 2015, 29% of children eligible for free school meals (an indicator of low income) had good overall oral health compared with 40% of those who were not eligible.
Children eligible for free school meals were less likely to attend a dental check-up.
Similarly, while rates of admission across England for tooth extraction fell between 2014 and 2015, a child in Yorkshire and The Humber is five times more likely to be admitted to hospital for a tooth extraction than a child in the east of England.
And the problem continues into adulthood, with someone in the north-east of England four times more likely to have no natural teeth than someone in the home counties.
Among hospital admissions for dental work, 14.1% came from the most deprived section of society, while 6.7% came from the most affluent.
High sugar consumption and smoking both have a negative impact on oral health, and the report notes that both are often associated with deprivation.
However, access to NHS dentists may also play a role, given that those on a low income are unlikely to be able to afford private dentistry in areas where there is no NHS service available.
In September, a BBC News analysis of 2,500 dental practices on the NHS Choices website found half were not accepting new adult NHS patients, while two-fifths were not accepting new child NHS patients.
The report calls on dentists to work harder at educating people on how to look after their teeth and moderate their diet, as well as providing greater access to treatment, such as mobile units in schools.
"This report provides yet more evidence of the devastation wrought on child health by poverty," said Dr Ronny Cheung, from the Royal College of Paediatrics and Child Health.
"Despite tooth decay being almost entirely preventable, it is the most common single reason why children aged five to nine require admission to hospital."
"The habits that lead to poor oral hygiene must be tackled from an early age."
A Department of Health spokesperson said improving oral health, particularly in children, was a key priority.
"We want everyone to be able to access an NHS dentist wherever they are.
"NHS England's Starting Well programme is working in 13 areas across the country, including Blackburn with Darwen, specifically targeting children who are not visiting a dentist to prevent poor oral health."