Public at risk from 'daily cocktail of pollution'
By Nick Triggle
Health correspondent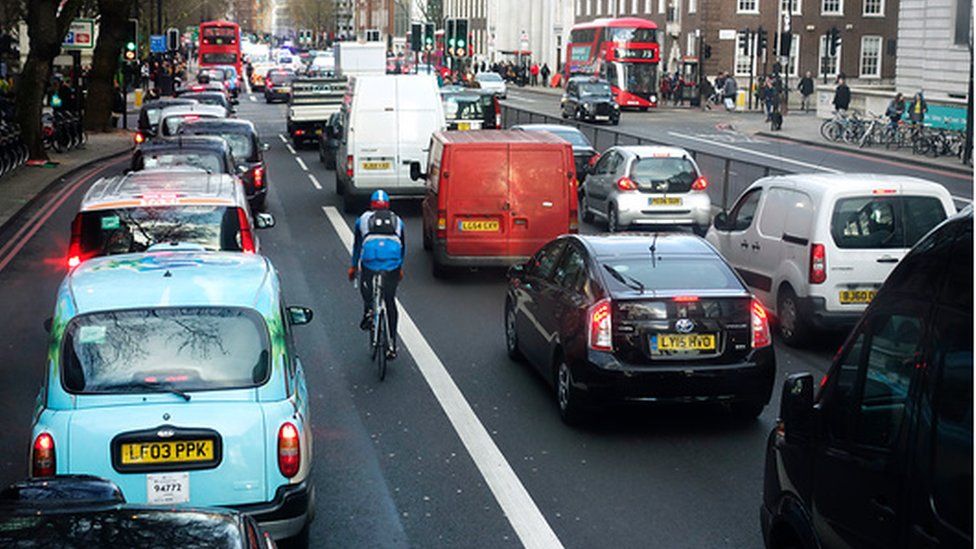 People are being exposed to a daily cocktail of pollution that may be having a significant impact on their health, England's chief medical officer says.
Prof Dame Sally Davies said the impact of air, light and noise pollution was well recognised in the environment.
But she said its role in terms of health was yet to be fully understood.
Dame Sally added there was enough evidence to suggest action had to be taken.
She said one in 20 vehicle journeys was linked to the NHS, either from patients or staff travelling.
And making sure services were brought out of hospitals and closer to people's homes could help reduce that burden.
Dame Sally also pointed to the attempts being made to phase out ambulances run on diesel, a key source of nitrogen dioxide, which is linked to respiratory disease.
And she said the NHS could cut its use of disposable plastics, landfill and incineration.
While air pollution does not kill people directly, it can shorten their lives by undermining the health of people with lung problems and heart disease.
Previous research has suggested it may be a factor in one in 12 deaths and is the ninth leading factor for mortality in the UK - tobacco, diet and high blood pressure are the top three.
But Dame Sally said there was also a question about how air, light and noise could coincide to have an impact on long-term health.
"With factors like air, light and noise, the public is exposed to a daily cocktail of pollutants," she said.
"Some of these can be linked to chronic conditions like heart disease and asthma.
"This increases the risk for some of the most vulnerable members of our society and places a huge burden on our health service."
Related Internet Links
The BBC is not responsible for the content of external sites.