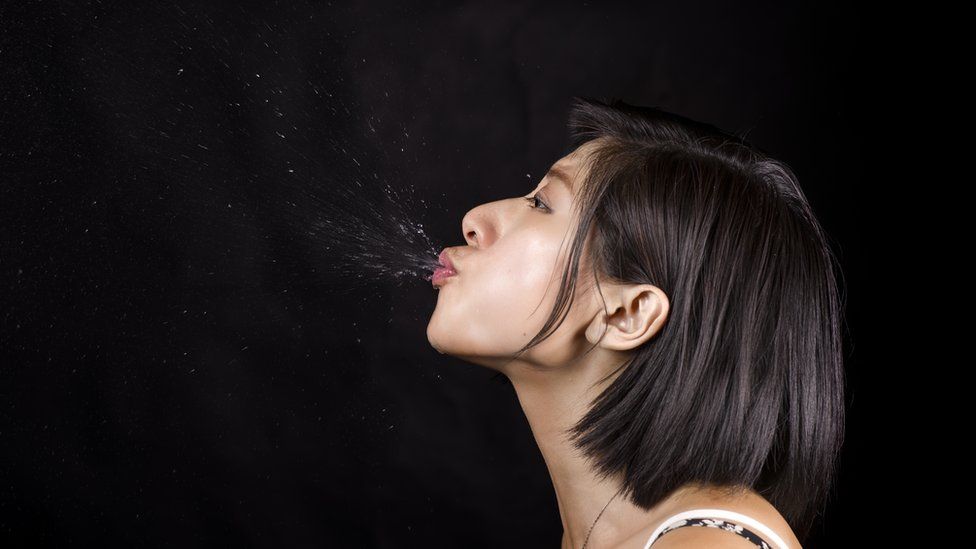 There's been outrage over a video of footballer turned TV pundit Jamie Carragher spitting towards a family in a car in an angry outburst in response to being "goaded".
Carragher has been suspended from his job as an analyst at Sky Sports.
But why is spitting seen as so offensive?
"Disgusting", "vile" and "doesn't get any lower than spitting" are among the comments posted about the video.
To some people, spitting is in a class above everything - even violence.
It's often seen as an action of anger and disrespect, but it hasn't always been the case.
In the past spitting was a socially acceptable habit in Europe, but by the 19th Century manners changed.
This coincided with greater awareness of the transmission of contagious diseases that could be spread by spitting, so public health campaigns were launched against it.
During the 1940s, when tuberculosis (TB) was widespread, it was common to see "spitting prohibited" signs on buses.
Today the risk of catching a contagious disease if you're spat at is very low.
You do stand a small chance of catching a cold or possibly the flu.
Other diseases that are spread through saliva include TB, hepatitis, viral meningitis, cytomegalovirus - a common virus similar to the herpes virus - and the Epstein-Barr virus, which is a common herpes virus that causes many diseases such as glandular fever.
If you are in the unfortunate situation that you are spat at, the NHS recommends you should:
Immediately wash the saliva off with soap and lots of water
If the saliva goes into your eyes, nose or mouth wash it out with lots of cold water
If you think you're at risk of infection, get immediate medical advice
On the football pitch, spitting on the ground is a common sight but spitting at your opponents is categorised as "violent behaviour" by world governing body Fifa.
Spitting at an opponent or any other person is a sending-off offence by the Football Association.
The police say "in most cases, spitting if done deliberately will be an assault" and they have started to introduce spit hoods to protect officers.
The force said in 2016, 231 officers were spat on.
But the garments have been condemned as cruel and degrading by the campaign group Liberty.
Until 1990, spitting was an offence carrying a £5 fine in the UK. In recent years the idea of fines for spitting has re-emerged.
In 2013, Enfield council in London introduced a by-law to make spitting in public illegal.
Councillor Chris Bond, who led the campaign to introduce it, described spitting as "utterly foul" and the "sort of disgusting behaviour" that "shouldn't be tolerated in a civilised society".
"It is my belief that most people find spitting a wholly obnoxious, filthy habit which can spread germs and causes health issues," he said.
"Banning spitting in Enfield will help combat tuberculosis which has been on the increase in London."
In the same year, Waltham Forest Council in north-east London introduced fixed penalty notices of £80 for those caught spitting. It classified spitting as "waste", which meant that creating a by-law was not necessary and it successfully took two men to court.
In some parts of the world spitting is commonplace.
China has attempted to tackle the issue a number of times.
One campaign ahead of the 2008 Beijing Olympics saw volunteers handed out special "spit bags" and banners across the city urged people not to spit as a way of "improving manners".
"Take part, contribute and enjoy yourself by welcoming the Olympics, being civilised and behaving better," said one slogan.