The foods that might help with dementia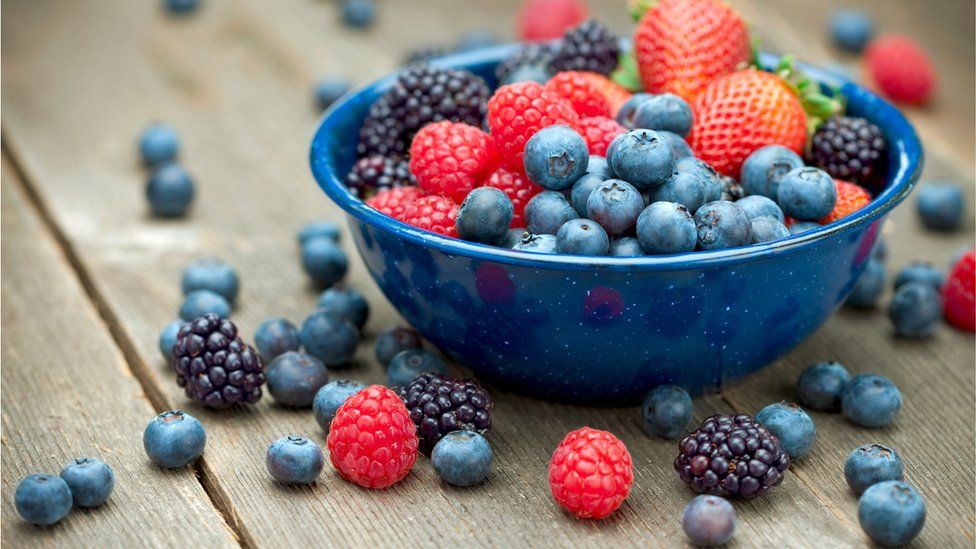 A man has told of how he "got his mum back" after a diagnosis of Alzheimer's disease, in part, by getting her to follow a diet high in berries and leafy green vegetables.
But how realistic is it that dementia can be tackled through diet?
The bulk of the research had been on the preventative side rather than treating Alzheimer's.
Mark Hatzer's mum Sylvia was diagnosed with Alzheimer's in December 2016 and it progressed fast, so that at its worst she forgot who he was.
Mark said after a change in her diet and daily activities, her condition improved.
"I slowly got my mum back. Her memory is improving all the time. She is more alert and engaged. She is basically her old self again," he wrote in a blog.
So what did Sylvia's diet entail?
Berries
Leafy green vegetables
Sweet potatoes
Few processed/fatty foods
Blueberries 'boost memory'
Sylvia ate a diet rich in blueberries, blackberries and strawberries.
Berries are part of the flavonoid nutrient family which is known for its antioxidant and anti-inflammatory abilities.
Investigators have claimed that blueberries may activate part of the brain which controls learning and memory, but more studies are needed.
Sylvia's diet was also rich in leafy green vegetables, such as spinach and kale.
Like berries, green leaves and vegetables contain high levels of antioxidants.
The Alzheimer's Society says that high levels of antioxidants may help to protect against some of the damage to brain cells associated with the disease.
Inflammation - in the form of a chemical change in the brain - is associated with Alzheimer's disease and the charity says there are suggestions that a diet high in antioxidants reduces the signs of this inflammation.
Also on Sylvia's diet plan were sweet potatoes, carrots and swede.
These orange-coloured vegetables are rich in another antioxidant, called beta-carotene, which some scientists say may benefit the brain and memory.
Sylvia excluded refined sugar and sugary drinks, fried foods and fast food and pastries, cakes and sweets from her diet - foods that experts agree should be kept to a minimum for a healthy diet.
Sue Clarke from Alzheimer's Society said: "It's fantastic that Sylvia and her son Mark have taken action to create a personal plan that works well for her dementia diagnosis. There currently no cure or way of preventing the progression of the condition, but taking regular gentle exercise, eating a healthy diet and doing cognitive exercises can help someone with dementia manage their symptoms more effectively."
Adopting a healthy lifestyle can help people with dementia to manage their symptoms, but there is no strong evidence that these steps will slow or stop the underlying diseases that cause dementia.
What Sylvia is following in her diet is very much like the Mediterranean diet, with few processed and fatty foods and lots of fresh fruit and veg.
Alzheimer's Research UK said the latest research presented at the Alzheimer's Association International Conference 2017 found four studies highlighting the potential benefits of certain diets, including the Mediterranean diet, and how they can support healthy brain ageing and help to reduce dementia risk.
Dr David Reynolds, chief scientific officer at Alzheimer's Research UK, said the studies built on "growing evidence" suggesting that following a Mediterranean style diet may hold valuable health benefits as we enter our later years.
"Observational studies like these can be useful for highlighting factors linked to healthy ageing, but this type of research can't definitively answer whether specific diets can prevent dementia," he said.
Dr Doug Brown, chief policy and research officer at the Alzheimer's Society, says they are still waiting for proof from big scientific trials to show whether changing your diet can reduce the risk of dementia, and by how much.
"But eating a healthy, balanced diet can reduce the risk of heart disease, cancer and stroke, so it's likely eating healthily is a good way to look after the health of your brain too."
You may also be interested in:
The Alzheimer's Society points out that while there are multiple studies into diet and the disease that are very promising, there have also been large studies that have not shown similar trends.
There are scientific limits too as studies have not shown whether diet can help with anyone with a genetic predisposition to getting Alzheimer's.
Apart from food, an extra element in Sylvia's plan was regular walking, a good night's sleep, and an increase in socialising. She also did memory games and puzzles.
The Alzheimer's Society says research has found all of these things have been found to reduce your risk of dementia.
Dr Brown said that as dementia is set to be the 21st Century's biggest killer, with no way yet to cure the condition, "prevention is key".