Tide turns on obesity strategy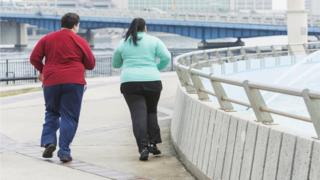 It wasn't long ago when ministers were worried that any intervention to curb what is marketed to British shoppers might upset retailers and provoke accusations of a "nanny state".
But the tide seems to be turning.
Customers, who are also voters, seem to be welcoming any help they can get for making healthier choices over their food.
Politicians have taken that on board and started adopting a more activist stance.
Theresa May's first obesity strategy in 2016 was widely criticised for dropping measures favoured by NHS and public health leaders.
Now they are firmly back on the agenda with a new strategy for England due in June.
New goal to cut Scots child obesity by half by 2030
Sugar tax: There's more to come in the war on obesity
Reality Check: Does obesity cost more than police and fire service?
There have been no denials of speculation that this will include a ban on TV advertising of junk food on prime time pre-watershed programming.
This would see the current restrictions on advertising unhealthy food on children's programming extended to all output up till 21:00.
Curbs on supermarket in-store promotions of certain foods, including "buy one, get one free" deals, are also expected.
Scotland's First Minister is thinking along similar lines. Nicola Sturgeon has gone further than Westminster and set a goal of halving child obesity in Scotland by 2030.
This is currently running at 14% of children under 16 and the target will involve reducing the number by more than 50,000.
But she has not yet set out how Holyrood intends to get there.
The Scottish government's strategy will be published in late June. Restrictions on supermarket promotions of unhealthy food will form part of the plan.
The first minister is keen to see a ban on TV advertising of junk food before the watershed.
This is a "reserved issue" which, if adopted, will be applied UK-wide by the government at Westminster.
Nicola Sturgeon has let it be known she will press Theresa May to take action in this area.
The Scottish government does have the power to introduce new regulations on billboard poster advertising.
Currently these ads promoting unhealthy food are banned on sites close to schools but there have been calls for much wider restrictions.
This could well be part of the new Holyrood plan.
The Scottish policy statement comes just a couple of days after London Mayor Sadiq Khan announced proposals to outlaw advertising of unhealthy food on London buses, bus shelters and in the underground network.
This would use definitions of food high in salt, sugar or fat currently applied in advertising on children's TV.
Celebrity chef Jamie Oliver has been an influential figure in these announcements.
Nicola Sturgeon visited his north London office to discuss her plans and hear his ideas.
Mr Oliver had lobbied Sadiq Khan for action on food advertising before the mayor's announcement.
He argued that the vast reach of the London transport network, with 30 million passenger journeys every day, made it an important "influencer" on consumer behaviour.
Aware of Jamie Oliver's high profile and expertise on nutrition, politicians will be keen to have him on board when they set out their detailed plans.
Radical measures
Head of NHS England Simon Stevens has also beaten a path to his door and has been pushing Downing Street to adopt radical measures in the forthcoming strategy.
Mr Stevens has made the point that advertising restrictions must be applied to digital as well as broadcast media.
Jamie Oliver, for his part, has warned that he will hold ministers and health leaders to account if there is any lack of clarity in their policies.
If any reminder of the cost of obesity were needed, the cross-party parliamentary group on obesity has set it out in a new report.
The group makes the point that obesity is more prevalent in the most deprived communities and argues "this is a looming social justice issue".
If prevention and treatment are not properly funded, the report argues, there will be "a huge ongoing cost to the system for many years to come".
Stand by, then, for potentially big changes to the way food is advertised and marketed to families around the UK.
Sensing changing consumer opinions, manufacturers and retailers have started altering their recipes.
What remains to be seen is the business reaction when the next steps by politicians to restrict how products are sold are set out in full.