HPV vaccine cuts cancer-causing infection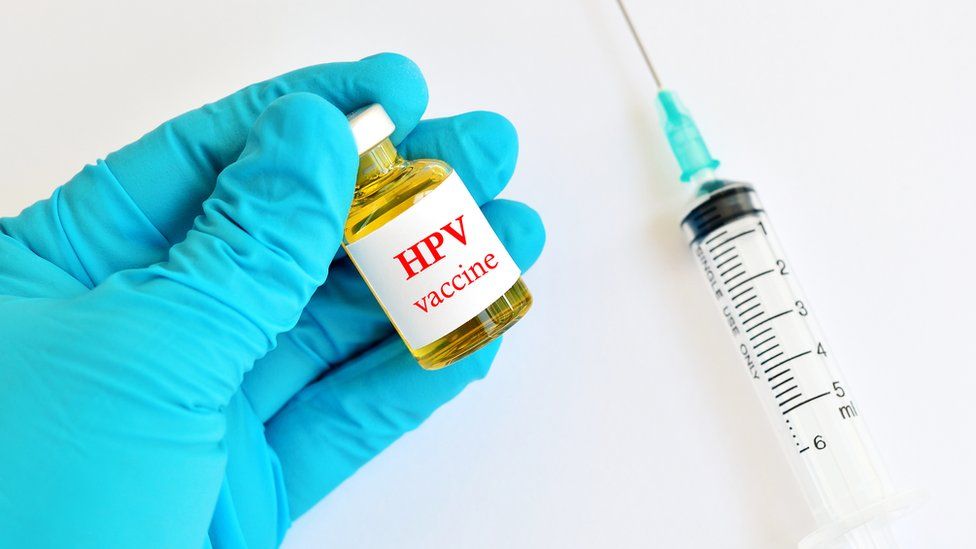 There has been a significant fall in the number of cases of HPV, the virus that causes cervical cancer, following the introduction of a vaccine for young women, a new study says.
The Human Papilloma Virus vaccine fights high-risk infections which cause the majority of cervical cancer cases.
HPV infections decreased in women aged 16 to 21 by 86% between 2010 and 2016 data from Public Health England show.
It comes as newspapers say the vaccine may soon be offered to boys too.
Cervical cancer remains the most common cancer in women under 35.
Experts say these results suggest that the vaccine, introduced just 10 years ago, could eventually lead to a virtual eradication of the disease, which kills around 850 women a year.
Mary Ramsay, head of immunisation at Public Health England, said: "These results are very promising and mean that in years to come we can expect to see significant decreases in cervical cancer.
"The study also reminds us how important it is to keep vaccination rates high to reduce the spread of this preventable infection.
"I encourage all parents of girls aged 12 to 13 to make sure they take up the offer for this potentially life-saving vaccine."
The HPV vaccine, first introduced in 2008, is delivered through schools in two doses to girls from the age of 12 to their 18th birthday. It is not offered to women over the age of 18.
More than 80% of people aged 15-24 have now been vaccinated in the UK.
The Joint Committee on Vaccination and Immunisation (JCVI), an expert advisory group, has reportedly told health ministers vaccinating boys will be cost-effective.
A Department of Health and Social Care spokeswoman would not confirm the reports, but said any advice from the JCVI would be "carefully considered" once received.
What is the Human Papilloma Virus (HPV)?
•HPV is the name given to a common group of viruses; there are more than 100 types of HPV
•Many women will be with infected with HPV over the course of their lifetime without any ill-effect
•In the vast majority of cases, there will be no symptoms and the infection will clear on its own, but in some cases persistent infection can lead to cervical disease
•Some types of HPV are high risk because they are linked to the development of some cancers
•Other lower risk HPV types can lead to genital warts
•Nearly all cervical cancers (99.7%) are caused by infection from a high risk HPV
•The HPV vaccine protects against four types of HPV which cause around 80% of cervical cancer and the vast majority of genital warts
In addition, the HPV vaccine is leading to a decline in genital warts, caused by low risk strains of HPV.
The number of genital wart diagnoses in sexual health clinics between 2009 and 2017 fell in girls aged 15-17 by 89%, and in boys of the same age by 70% as a result of girls not infecting them.
However, the HPV virus is also implicated in cancers in men, such as anal and throat, head and neck. Last year, the vaccine was extended to gay men aged 16-45, but is not currently offered to boys.
Extending the vaccine is currently under review by the Joint Committee on Vaccination and Immunisation, but some researchers believe this is not happening fast enough.
Prof Mark Lawler, of the Centre for Cancer Research and Cell Biology at Queens's University Belfast, is calling for the vaccine to be extended to boys.
"Head and neck cancer is one of the fastest growing cancers in the UK, so why can't we have a vaccine that protects boys as well as girls? Yes some boys are protected if there is a high rate of girls getting vaccinated, but in areas where there is a low take-up rate, then that immunity is not going to happen.
"Many countries now vaccinate both girls and boys, including Canada which has a similar health system to the UK," he added.