Shipman, Bristol, Stafford, Morecambe Bay - and now Gosport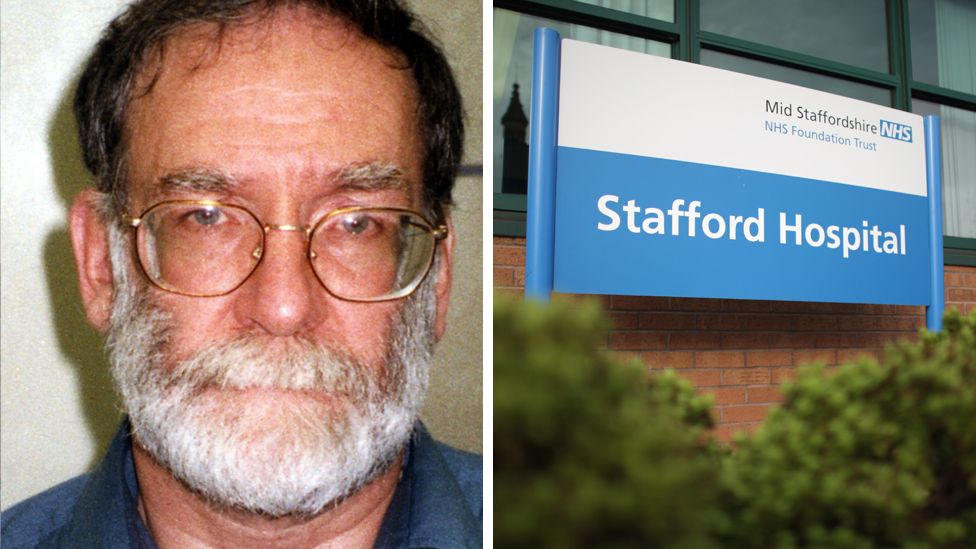 One by one the scandals have become etched on the public consciousness. The mass killings by Harold Shipman. The deaths of babies undergoing heart surgery at Bristol Royal Infirmary and born under the care of Morecambe Bay maternity services. The needless suffering of patients at Stafford Hospital.
Now we can add Gosport War Memorial Hospital in Hampshire to that list. News that 456 patients died after they were given opiate painkillers without reason is one of those moments that send a shudder through the NHS - and the nation.
All these scandals are, of course, different. Shipman was about the actions of one person. Stafford was an institutional failing on a mass scale. Gosport has elements of both.
But there are similarities too that run through all of them - and they go to the heart of what perhaps still remains an uncomfortable truth about healthcare.
Whether it is in the GP's surgery, on a ward in a hospital, a room in a care home or from the comfort of your sofa during a home visit, patients see doctors and other healthcare staff when they are at their most vulnerable.
The interactions are based on trust. A trust which is overwhelmingly repaid by the thousands of dedicated staff who treat millions of patients every week in the NHS.
But bad practices can set in and poor care can go unchallenged. It is the common thread that runs through all four cases. And it begs two questions.
In unveiling his findings, panel chairman Bishop James Jones talked about the "institutionalised" nature of what went wrong at Gosport.
A culture where the unacceptable became acceptable had developed. It seems shocking.
But it shouldn't. In any workplace, the culture and values are key. In an organisation the size of the NHS, they come from the top, but also from those you work with directly.
Peter Carter, the former general secretary of the Royal College of Nursing, has talked about the NHS being a series of "microclimates", where good care can exist next to bad.
He visited Stafford Hospital before the horror of what happened came to light. He was shown around wards, but not the ones that were at the centre of the subsequent inquiry. Afterwards he praised the care he saw.
It can make identifying problems very difficult. It requires those on the inside - staff or patients - to blow the whistle.
But time and time again that doesn't happen. Inquiries into Stafford Hospital, Morecambe Bay and Shipman detail the trusts placed in the system and staff. When people do have concerns there is a temptation to want to avoid making a "nuisance" of yourself or a fear of reprisals, according to Sir Robert Francis, who led the Stafford inquiry.
Even when concerns are raised, they are not always acted on. This has happened in all these cases.
Lib Dem MP Norman Lamb, who has been active in supporting the families in the Gosport case, has described how the hospital "closed ranks". Similar conclusions were drawn by the inquiries into Bristol, Morecambe Bay and Stafford Hospital.
Hence, it has taken relatives 20 years of fighting to get the full scale of what went on at Gosport into the light.
Could something similar be happening today?
The NHS has changed dramatically in the past 10 to 20 years. The Shipman case led to changes into how deaths are recorded, controlled medicines are monitored and GPs are assessed.
The Bristol Royal Infirmary and Stafford Hospital cases led to an overhaul in how hospitals are inspected and death rates used to hold them to account.
Whistle-blowers now enjoy greater protection when they come forward.
Patients are encouraged to play an active role in making decisions about their care, with doctors and nurses consulting with them in a way that would have been unimaginable previously.
It means healthcare is undoubtedly safer than it was when each of these scandals were unfolding.
But consider this: the failings at Morecambe Bay were still going on as recently as 2013.
Indeed, Health Secretary Jeremy Hunt, in his statement to Parliament on Gosport, said it was only right that "searching questions" are asked about whether everything is being done to prevent another scandal.
You need only look at the most recent NHS staff survey in England to see the system is far from perfect. Nearly a third did not feel secure in raising concerns about unsafe care. An even greater number were not confident their complaints would be acted on.
The scandals that haunt the NHS
Dr Harold Shipman - Responsible for killing at least 215 patients over a 25-year period from the mid 1970s. Many were elderly women who died after he injected them with lethal doses of diamorphine.
Stafford Hospital - Criticised for causing suffering to hundreds of patients during the late 2000s. Trust in charge of hospital later placed into administration.
Bristol heart deaths - Thirty-five babies died and dozens more left brain-damaged by poor practices identified at child heart surgery unit between 1991 and 1995
Morecambe Bay - An inquiry said a "lethal mix" of failures in maternity care led to the deaths of 11 babies and a mother over nine years.
Gosport War Memorial Hospital - Independent panel found there was a "disregard for human life" at hospital where inappropriate use of strong painkillers linked to the deaths of over 450 people.
Related Internet Links
The BBC is not responsible for the content of external sites.