Low NHS morale is 'heartbreaking' says Matt Hancock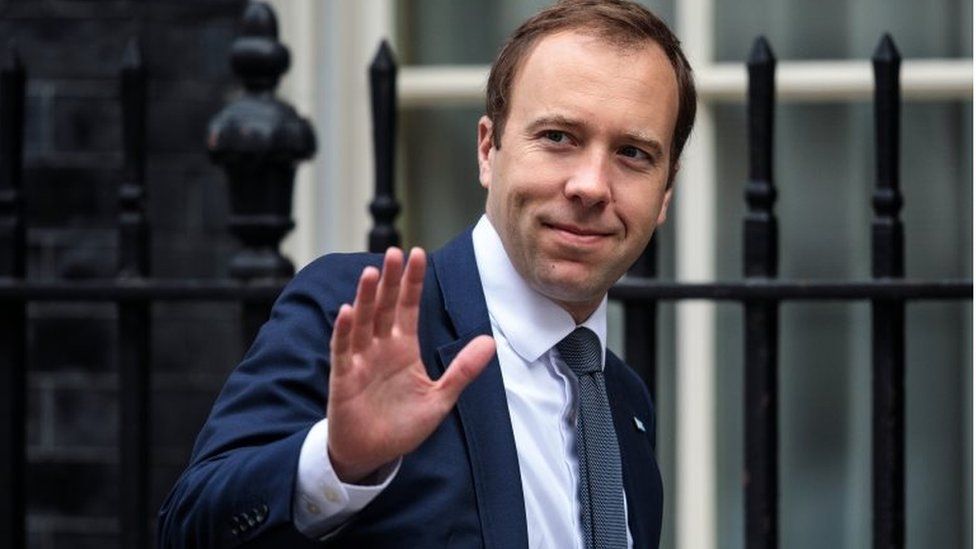 Seeing how NHS staff feel "undervalued" is "heartbreaking", the new Health Secretary Matt Hancock has said.
In his first speech since taking the job, Mr Hancock said he was horrified at the level of bullying reported by staff.
The British Medical Association welcomed the sentiment but said it needed to be underpinned by action.
Mr Hancock, the former digital and culture secretary, also pledged £487m for technology in the NHS.
'Tech transformation coming'
Of the money pledged, £412m will be used to improve technology in hospitals and to give more patients access to health services at home.
The remaining £75m will be put towards replacing paper systems with electronic ones - a move intended to reduce medication errors.
Addressing staff at West Suffolk Hospital on Friday, Mr Hancock said: "Let this be clear: tech transformation is coming."
Mr Hancock also spoke about his love for the NHS, which he credited with saving his sister's life after she had a horse-riding accident.
Professional rider Emily Gilruth, 41, was in a coma for four days after she fell and hit her head while competing at Badminton Horse Trials in May last year.
Speaking publicly about the accident for the first time, Mr Hancock said: "Last summer my sister sustained a very severe head injury. It was touch and go and her life was saved by the intensive care unit at Bristol's Southmead Hospital, where she stayed for a week, most of it in a coma.
"Thanks to their care she has now recovered."
He added: "I love my sister and the NHS saved her life, so when I say I love the NHS, I really mean it."
Addressing NHS staff concerns, Mr Hancock pledged to champion the workforce and announced a consultation exercise on workforce issues.
Mr Hancock also called for an end to the "over-prescription of unsophisticated drugs", focusing instead on approaches that address a person's physical and mental well-being.
Shadow health secretary Jonathan Ashworth said patients would feel "sorely let down" that reducing waiting lists "isn't the first priority of the new health secretary".
"Investment in technology is welcome but years of Tory austerity has seen hospitals build up a £5bn repair backlog, resulting in clinicians nationwide using hundreds of pieces of equipment that are years out of date, as recently revealed by Labour.
"And commitments to prevention will ring hollow without reversing the substantial cuts to public health budgets, which are set to reach £800m by 2020/21."
Mr Hancock takes on the job of health secretary as the NHS develops its 10-year plan.
After the speech the new health secretary was asked whether he had any plans to change existing NHS targets.
These include treating, assessing or discharging 95% of patients within four hours of arriving at A&E in England. The target has not been met since 2015.
Mr Hancock said he had been asked by the NHS to consider whether they were still "clinically appropriate".
He said while these targets were set by government "we've got to make sure that the targets that we set are very best for improving outcomes in patient care because that's what I really care about".