Opt-out organ donation 'in place by 2020' for England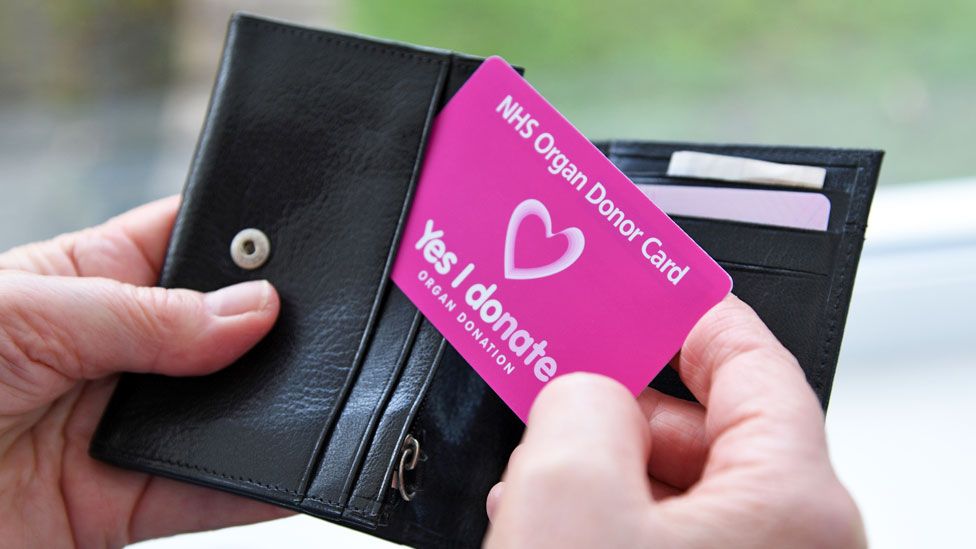 A new opt-out system for organ donation will be in place by 2020 in England, if Parliament approves "Max's Law".
Under the plans detailed by ministers, adults will be presumed to be organ donors unless they have specifically recorded their decision not to be.
The government said it would save up to 700 lives each year.
In the UK in 2017, 411 people died before the right donor was found, and more than 5,000 people are currently on the waiting list in England.
"Max's Law" is named after Max Johnson, from Cheshire, who was saved by a heart transplant.
The legislation was subsequently introduced last year, and will return to the House of Commons in the autumn to be voted on.
If passed, it is expected to come into effect in England in spring 2020 - because the timetable for its introduction will allow for a year of "transition" to the new law.
The government said it would also encourage people to discuss, with their families, the issue of whether they would want to be a donor in the event of their death.
'It really is the gift of life'
Mark Smith had diabetes for 25 years, which caused his kidneys to fail. He was on the waiting list for seven months before he was able to have a kidney and pancreas transplant.
Mr Smith told BBC Breakfast that he had got in touch with the family of his donor, a 24-year-old manslaughter victim, to express his gratitude.
"Having lost a younger brother myself, I wanted them to know that I could empathise," he said. "Although I hadn't lost a child, I knew what it was like to lose someone young in very tragic circumstances."
Since then, he said they have been in touch several times and had become "really good friends".
"I've always been a supporter of organ donation, it's such a noble thing to do for people to give that gift - it really is the gift of life," he added.
The new system presumes that over-18s in England are in favour of donating their organs when they die, instead of the current system where people opt in by signing the NHS Organ Donor Register.
Under the new law, those who do not wish to donate their organs will still be able to opt out via the register and by using an NHS app that launches at the end of the year.
The register will also include an option for people to state their faith, if it is important to their decision.
Currently, fewer than half of families give consent for their loved one's organs to be donated if they are unaware of their wishes, and ministers hope that the new system will encourage people to make their wishes known before their death.
Research shows 82% of people support organ donation, yet only 37% have recorded their wishes on the NHS Organ Donor Register.
Under the new plans, specialist nurses will be on hand to discuss donation with families after a loved one dies.
'My Hayley saved six lives'
Hayley Louise Jordan died from a brain haemorrhage when she was 32, and her organs were donated to six people, including two children.
She had signed the organ donor register before her death, and her mum Carol says she was glad her daughter's wishes could be granted.
"My Hayley had gone, she wasn't there any more," she said. "Now I've got comfort knowing she's saved six recipients.
"I just want them to have a healthy and happy life - that's the comfort I get now. "I just wanted some good to come from it.
"They were sitting waiting for a call and it's a miracle for those recipients."
Carol says she agrees with the new system of presumed consent.
"It's a good thing because you're taking the decision off the parents."
Jackie Doyle-Price, Secretary of State for Mental Health and Inequalities, said the changes could save up to 700 lives every year, but she said organ donation remained a gift.
"I want to encourage people who wish to give life in the event of their death to take the time to record their wishes and discuss it with their family," she said.
"However, we know this new system alone is not a magic bullet.
"We need to address myths and misconceptions around donation, and we will only do this by having informed debate and dialogue, which I hope will be fostered by these proposals."
Fiona Loud, policy director of Kidney Care UK, told BBC Breakfast the experience in Wales, where donations did not initially increase, showed the new system depended on widespread public support.
"We must have a full, consistent public education system with faith groups, schools, colleges, universities, and with the public as well," she said.
She added the new system would involve a "soft opt-out", where families could override the presumption in favour of donation if they strongly believed their dead relative would not have wanted it.
Simon Gillespie, chief executive of the British Heart Foundation, said introducing an opt-out system in England would reflect the views of the general public better.
He said: "This will also ease the agonising pain felt by many families who risk losing a loved one while they wait for an organ.
"It's still really important for all of us to have conversations with our loved ones about organ donation so our wishes can be met if the worst should happen."