TV doctors: Taking medicine to the small screen
By Jennifer Scott
BBC News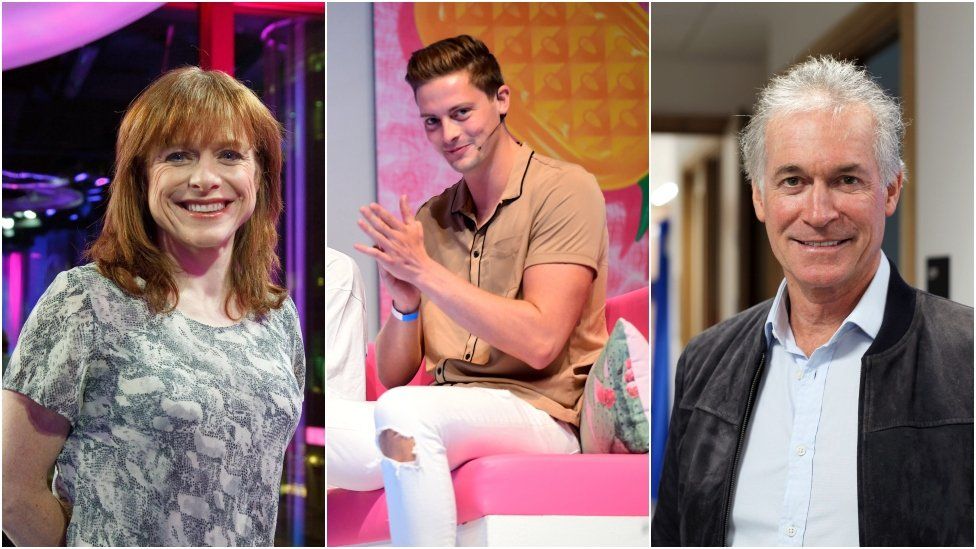 We may get nervous when booking appointments with the GP, but the British public love advice from doctors on the TV.
From programmes on embarrassing bodies to phone-ins on daytime chat shows, we like to see a white coat on a sofa dishing out their wisdom to us from the comfort of our own homes.
Love Island contestant Dr Alex George is the latest professional to make the move from the bedside to the living room, joining ITV's Good Morning Britain as its guest health editor for this week.
But what drives doctors away from their practice and onto the airwaves?
Dr Alex is filling in for Dr Hilary Jones while he is away on holiday, and thanks the ITV star for inspiring his own medical career.
The A&E doctor, who rose to fame on Britain's most talked about reality show, watched a number of fly-on-the-wall programmes about hospitals where the "drama and excitement" gave him a taste for his job.
But he told the BBC: "Dr Hilary has done fantastically for many years with his TV work [and] I have grown up watching him and inspired by him, so they are very big shoes to fill.
"Being on TV as a doctor gives you a fantastic opportunity to discuss those things some people may find embarrassing and may not feel comfortable talking about.
"I am really keen to do that, especially in areas such as mental health, sexual health and body image."
"It is a good thing that the show has brought it up as it is important to discuss these things like body image, and that is linked to mental health, and sexual health in some ways."
That chance of an open platform was something that inspired Dr Hilary himself, who started his on-screen career on TV-am in 1989 and has been a fixture on breakfast programmes ever since.
"I noticed that previously the media had relied heavily on academics and researchers who often hid behind over-complicated medical jargon and statistics," he said.
"I wanted to be a more accessible and friendly face of medicine putting medical news in proper perspective in ways which were simple and straight-forward to understand.
"I wanted to cut through the mixed messages and confusion, but to make it fun too."
Dr Hilary said awareness raising through television campaigns has "undoubtedly saved lives" and the opportunities for public health education are "enormous".
He added: "Communication was what I was good at, and I realised that through TV I could influence tens of thousands of people in the same time I could speak to one person in the clinic."
Dr Ranj Singh rose to fame as a doctor on CBeebies and is about to star in the new series of Strictly Come Dancing.
He became a doctor because of his love of science and a desire to help people, but describes his career change as happening "by mistake".
"An opportunity came up to do a bit of work with the BBC and I just went along for a chat," said Dr Ranj.
"To cut a long story short, my name got passed around and I ended up doing more and more. It was never anything I ever planned, but it's developed into a second career and I really enjoy it."
Dr Ranj is driven by the want to promote public health to a wider audience.
"It's really important for someone to speak about medical issues, particularly those that affect young people and children, on a public platform and that's what I strive do," he added.
"It's a powerful way to put out positive and healthy messages, and I hope one day it inspires a young person to do the same."
Cutting through confusion
The One Show's resident doctor, Sarah Jarvis, is also a GP and clinical director for Patient.info.
She wanted to be a GP since the age of eight after a home visit to give her father an injection fascinated her.
But like Dr Ranj, her TV career started by accident after she was asked to appear on ITN's lunchtime news as a one-off.
Within a few weeks, they had created a new job for her as ITV News' Doctor.
For Dr Sarah, the work is about cutting through mixed messages.
"I was getting so fed up with seeing the messages my patients were getting from the media about health issues and were coming in worried about," she said.
"It was like [the media] would never allow facts to get in the way of a good headline.
"The internet has been a boon in many ways, but also spreads so much misinformation and it is really important to challenge that."
The audience relationship
Emma Bullimore, TV critic for TV Times, said the introduction of TV doctors came with the growth of magazine programmes like This Morning and BBC Breakfast.
"If you look at these shows, it makes sense to have lots of experts and people you feel safe with speaking to you from their sofa to yours, so a doctor is a perfect fit," she said.
But why does the audience love them so much?
"You may have an ailment yourself and may not have time to go to the doctor, or may be embarrassed, but you have grown to trust that person on the show and listen to their advice, or even call in yourself," she said.
TV has moved on with shows like Hospital and 24 hours in A&E - but magazine programmes and that trust in doctors lives on.
"It is about building up that relationship with viewers and trusting them," said Bullimore.
"That's what TV doctors do."