Mental health: Finding someone to talk to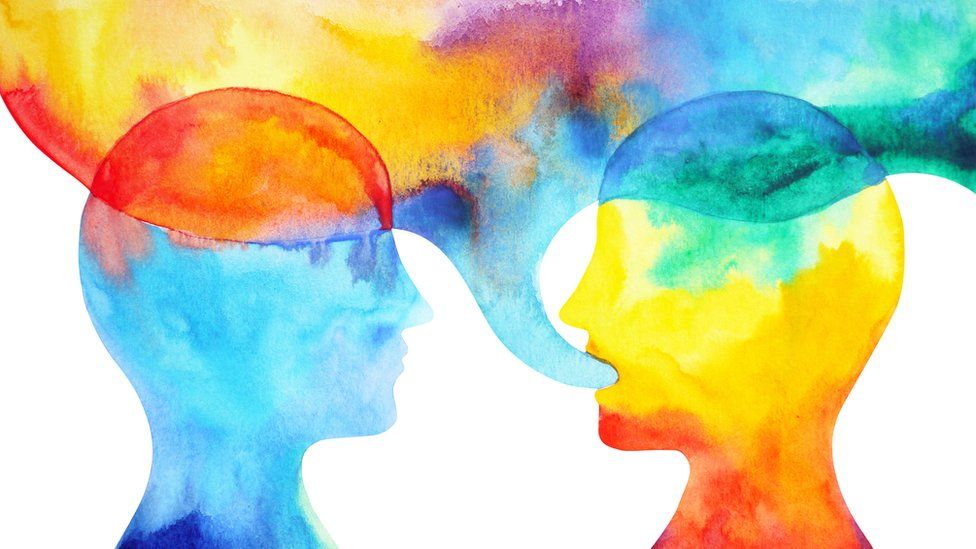 The pressures on mental health services are well documented. But what is it like to try to negotiate the system to get the help you need?
Figures revealed on Friday by the BBC show the flagship mental health Improving Access to Psychological Therapies service fails more people than it helps in one in seven areas of England.
We spoke to two people with very different experiences of "navigating the system" and accessing mental health services.
'I've had a good experience compared to other people'
Karla says she knows she's been lucky. Her experience of accessing mental health care has been overwhelmingly positive.
"I've got two long-term health conditions but it was this year that it became a real issue. In January I did attempt suicide," she says.
Karla, who lives in Derby, adds: "I got CBT (cognitive behavioural therapy) really quickly, within a couple of weeks. And in that time, I was seeing my GP pretty much every day. He made time to make sure I was OK.
"It doesn't happen very often that people have that experience. I was really fortunate to have a GP who took the time. The access can be such a problem."
And she says her CBT made a significant difference. "The therapist helped me through a lot of things. I'm officially in recovery from depression and anxiety. I'm in a far better place.
"CBT has taught me how to express things in healthier ways. Now I don't bottle things up so much.
"It gave me the strength to say, 'you know what, it's going to hurt and it's going to get worse'. Before, I didn't talk to anyone. Therapy taught me to accept this is what it is.
"It's given me my life back and the confidence to do things and try things - to know that when I failed it's not because I was a weak person. I am not. I get up every morning in chronic pain - sometimes getting up and getting dressed is a challenge.
"It's given me the confidence in myself that I need. It's saved my life."
'There needs to be a better way'
Imran (not his real name) has had a very different experience to Karla, and - six years on from first seeking help for his mental health issues - he is still struggling to access effective ongoing support.
During that time, he has had contact with a wide range of professionals - his GP, social workers and housing support staff - which "didn't amount to anything". He was also referred to a psychiatrist, and later CBT.
None of it has worked for him, and he says it can be hard to negotiate "the system" when you are also dealing with symptoms.
"There's a lot of pressure on you. It's really hard.
"If you miss an appointment, if you're not feeling really up for it - or you have a bad night, it's really hard to see someone. You feel lonely and isolated. And if something fails, you're in limbo.
"It's all really confusing; the different organisations, the medication, remembering all the different numbers and who to email and to call and to keep in contact with my GP.
"Better communication - between the different teams and with patients - would help a lot."
Imran says the wait for an appointment can be particularly difficult.
"When you've got a big issue about care, you don't really have that much time, you feel as if you're under pressure over making a decision. There needs to be a better way."
Vicki Nash, head of policy and campaigns at the mental health charity Mind, said: "In recent years, awareness of mental health has increased rapidly, and more and more people are asking for help when they are having problems, as they should.
"That's a very good thing, but it relies on services across the country having the necessary investment behind them. Unfortunately, your likelihood of receiving the help you need can still vary depending on where you live, and this needs to change, urgently."
If you're affected by these issues, here are details of some organisations which offer support and advice
Vicki says: "If you're struggling to get an appointment to see a doctor, do persist. It's awful that so many people are struggling to access the support they need from their GPs when they need it. We know that there are many barriers to people seeking help from their GP in the first place, but on top of this we are concerned that problems with booking appointments may deter people further.
"It's really important that people don't give up, as GPs are often the gatekeepers for accessing help and support.
"If you're worried about your mental health, but don't feel comfortable speaking to a GP, talk to someone you trust, such as a close friend or family member."
She adds: "Advocates can be a useful way of getting support when you feel that your concerns aren't being dealt with appropriately by health or social care professionals.
"It can be helpful in these situations to have someone backing you up, standing up for your rights and helping you to properly express your views and wishes. Advocates can be provided by a number of organisations, including local Mind branches."
Related Internet Links
The BBC is not responsible for the content of external sites.