'People fade away without human company'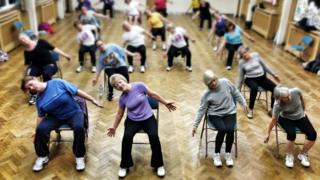 A cooking class, a group walk or even a spot of dancing could be prescribed by GPs in England to reduce pressure on the NHS caused by loneliness.
The government's new loneliness strategy aims to connect people back with their neighbourhoods and to help the 200,000 older people the government estimates have not had a conversation with a friend or relative in over a month.
We asked for your thoughts on whether it was possible cure loneliness with human interaction instead of medicine.
Kirsty Whawell
Kirsty, 38, a practice manager at a GP surgery in Leicestershire for the past five years, introduced exercise classes for her patients 14 months ago.
"They are incredibly popular," she told the BBC. "Not only do the classes help people to move more but the social element that comes with the exercise is equally as important.
"Offering the classes in house is better for our patients because compared to a gym, which can be daunting, the practice is familiar to them.
"They are more comfortable - they know the building and it's safe because there is a doctor here if they need it.
"As well as the exercise, it gets their brains working just as much and the patients even meet up for lunch and tea now. They have their own little social circle.
"It was never the aim to provide a social network for our patients.
"There are people that come to the classes who could quite happily do without the exercise but they attend because they want to meet other people because they can go a week without seeing anybody."
Kirsty said alleviating loneliness, which can lead to depression, could save the NHS money on prescriptions.
She said: "If we can tackle loneliness in a different way, that can only be a good thing."
John Kirk
"When I was a 21-year-old civil servant, I was sent to work in London and I found the capital a very lonely place.
"Leaving work on a Friday, I often wouldn't get to talk to anyone again until Monday morning.
"Loneliness can eat you. It gets inside your body and creates boredom and this isn't just confined to older people.
"Parents can be isolated by a crying baby, workers can be isolated by their jobs and young people can be isolated by technology.
"Loneliness is inherent within our society and if people are not talking to one another, they can find it very difficult to get out of their loneliness spiral.
"My wife and I have been running a tea dance in Maltby, South Yorkshire, for the last nine years. It's helped people to rekindle old friendships and get out of their usual routines".
Anonymous contributor
"I suffer from anxiety and a low mood.
"Living on my own with no close family or friends nearby makes me feel isolated and lonely, especially on the weekends.
"I would welcome being offered the choice between a drug like [tranquiliser] diazepam and dance lessons - the latter would be more beneficial and naturally elevate my mood".
Liz Threadgall
"Human company is so vital. It's like breathing - people just fade away without it.
"I believe there are lots of organisations out there with clubs and social activities. That is not the problem.
"The problem is getting people to attend, particularly the shy and less socially confident people in our society.
"Some people would not dream of going into a new space on their own.
"They need friendly supporters to go with them, to encourage and stay with them until they find their feet.
"We're a very introverted nation. We don't talk to one another and we don't interfere. We can be very slow to offer a helping hand.
"Dance classes and art clubs are not going to work on their own.
"It's all very well prescribing these activities - but if we don't take responsibility and look after each other in society, it won't solve the problem".
By Kris Bramwell, UGC and Social News team