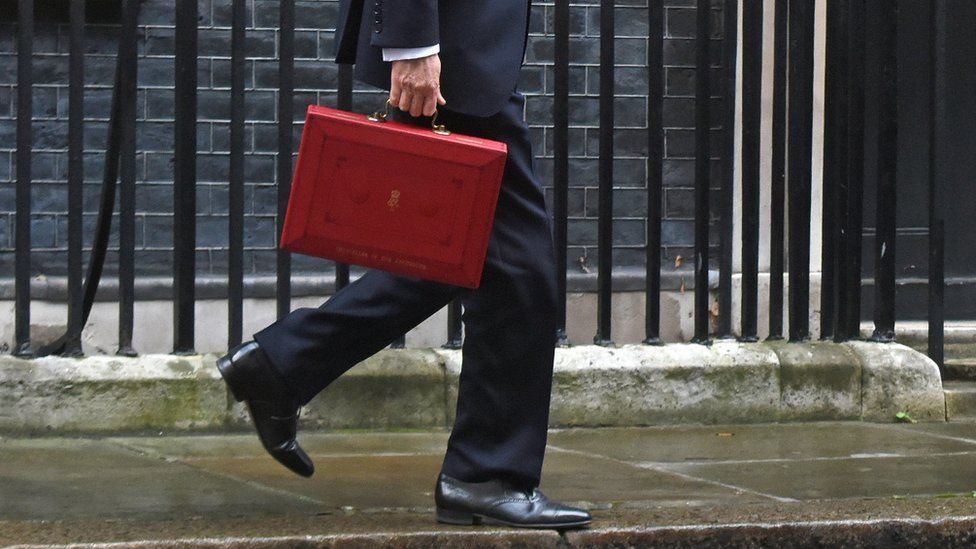 Spending on public health, and doctors' and nurses' training in England is set to fall next year according to the fine print of the Budget documents.
The chancellor announced annual real-terms funding increases for NHS England which provides front-line services. But other areas of health spending run by the Department of Health will fall in 2019-20, according to a think tank.
Government sources indicated that there were other revenues of income to boost Department of Health funding, including immigrant surcharges, which could be spent on services outside NHS England.
The Health Foundation think tank has analysed the Budget paperwork and says that while the NHS England budget for day-to-day running costs will rise by nearly £4bn in real terms next year, there will be a reduction of £1bn, or 12%, in other areas of the health budget.
This slice of funding covers prevention initiatives run by Public Health England and local authorities, including smoking cessation and sexual health. It also includes the budget for Health Education England.
The previous Chancellor, George Osborne, was criticised for announcing increases for NHS England while at the same time cutting allocations for public health and medical and nurse training.
The Conservative chairwoman of the Health Select Committee, Sarah Wollaston, told the BBC any further cuts would be unacceptable: "We cannot see money transferred from other parts of the Budget such as public health or training budgets to fund NHS England rises.
"This would have serious consequences and undermine the commitments made to the NHS this summer."
Labour's Barbara Keeley said it was "incredibly short-sighted given the workforce challenges in the NHS".
Others argued that in the long run, it would cost the NHS far more if investment did not go into prevention and early intervention.
Anita Charlesworth, of the Health Foundation, said that ministers may have to resort to raiding budgets set aside for investment in NHS buildings and technology.
"If the government wants to avoid further cuts to education and public health, it will need to shift all of the planned capital growth to day-to-day resource budgets," she said.
A government source said that the numbers in the Budget did not include sources of income, including surcharges for immigrants, which could be passed on to areas like public health.
In the past, health budgets in England have been propped up with money switched from investment known as capital spending (such as money for new buildings) and it's possible this will happen again next year.
The budget for day-to-day running costs for NHS England is £114.6bn for 2018-19, and the equivalent overall budget for the Department of Health is £123.3bn.