Children and adolescents 'account for half of sports A&E attendances'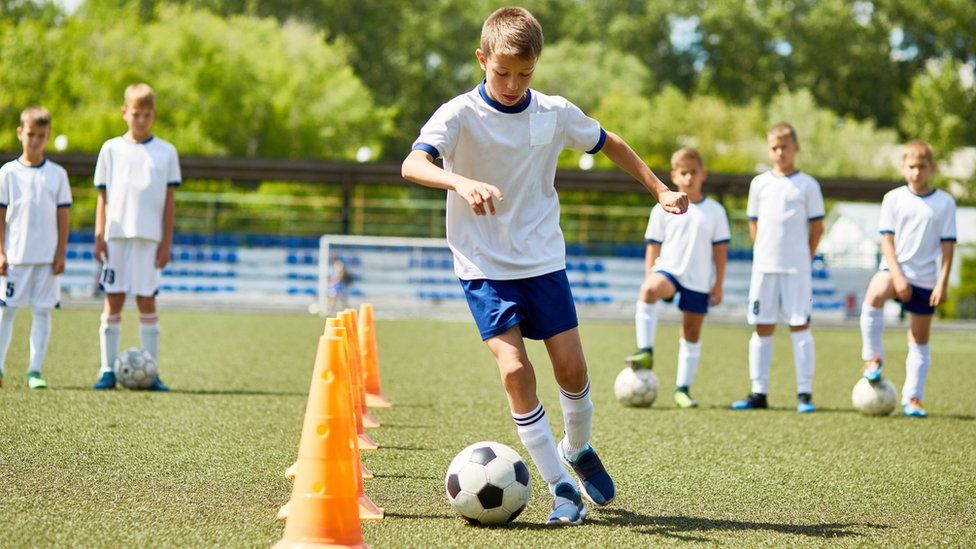 Children and adolescents account for nearly half of A&E attendances for sporting injuries, research suggests.
An analysis of A&E data at two hospitals between 2012 and 2014 found 47% of attendances for sport-related injuries were made by under-19s.
Football, rugby union and rugby league were linked to the most injuries in boys. For girls, it was trampolining, netball and horse-riding.
Fourteen-year-old boys and 12-year-old girls were most likely to be injured.
The authors say their findings should prompt schools to consider introducing injury prevention initiatives for child sport.
Researchers, who looked at 11,676 accident and emergency attendances for sport-related injuries at two hospitals in Oxfordshire, found 10- to 14-year-olds were the group of children most likely to be injured, followed by 15- to 19-year-olds.
The data did not show how many of these attendances led to admissions.
Almost a quarter of the injuries were fractures, most commonly to the upper limbs, the study found.
Football came top of the list for injuries for boys. Trampolining was worst for girls.
Rugby union was the sport most associated with head injury and concussion in boys. While for girls, head injuries were most common during horse riding.
Prof Allyson Pollock, from Newcastle University, said: "Everybody goes on about the benefits of sport but we don't actually look at the downsides and risks of sports and we don't design our prevention strategies to be informed by that.
"This study has shed some light on the causes and scale of sport injuries and should act as a springboard for injury prevention initiatives in child sport, targeted specifically at the causal mechanisms for these often serious injuries."
Prof Pollock said the popularity of football was probably why the sport was linked to so many injuries.
In contrast, rugby union and rugby league had much lower levels of participation, she said.
Prof Pollock said studies such as this one could help experts monitor the rate of injury across various child sports.
Along with her colleagues, she says local authorities and schools should consider targeting sport injury prevention at children in the first four years of secondary school.
They say that for younger age groups, trampolines in the home warrant improved safety, while rugby and horse-riding should also be a focus for interventions.
Although the study was based on information from two hospitals - the only two where such information was available - Prof Pollock said she expected the findings would be similar across the UK, albeit the proportion of injuries caused by certain sports may vary in some areas.
Dr Max Davie, from the Royal College of Paediatrics and Child Health, said A&E services were already "very overstretched".
He added: "To relieve the pressure on these services, it's important that we reduce the number of preventable admissions by making sports safer for children and young people.
"A scheme which would help to lessen the number of children becoming injured through sport is one that we would welcome."