UK's 'unhealthiest' High Streets revealed
By Laurel Ives
BBC Health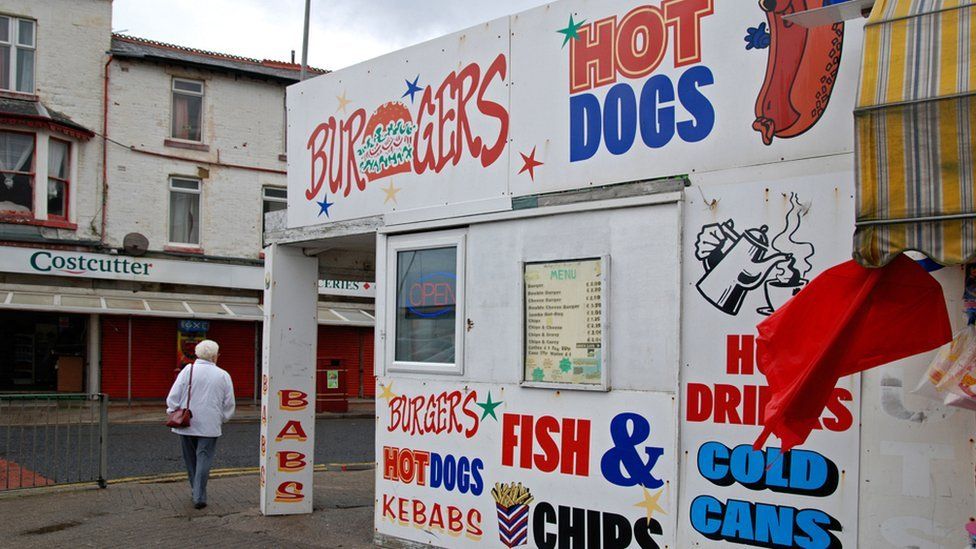 The Royal Society for Public Health (RSPH) ranked High Streets with more payday lenders, bookmakers, tanning salons and fast food outlets the worst.
Grimsby led the unhealthy High Street list ahead of Walsall and Blackpool, while Edinburgh, Canterbury and Taunton had the healthiest outlets.
There was a clear link between deprived areas and unhealthy High Streets.
Outlets that were considered healthy included leisure centres, health services, libraries, museums and art galleries.
The report also considered pubs and bars as being a positive presence on the High Street because they are centres for social interaction.
However, pubs are in decline and many people are using the UK's 22,000 coffee shops as places to socialise, eat and drink instead.
You might also be interested in:
The number of fast-food outlets on UK streets rose by 4,000 between 2014 and 2017, mostly in deprived areas.
The links between typically high-fat fast food, weight gain and obesity are well documented. Fast food outlets sometimes engage in what the RSPH report calls "upselling"; where staff are trained to persuade customers to buy additional or larger portions.
Payday lenders and bookmakers were considered unhealthy businesses because of the "devastating consequences" debt can have on health as well as on family and work life, the report said.
London's High Streets were not considered in the report, as they have been ranked separately.
The UK's 10 unhealthiest High Streets are:
Grimsby
Walsall
Blackpool
Stoke-on-Trent
Sunderland
Northampton
Bolton
Wolverhampton
Huddersfield
Bradford
The UK's 10 healthiest High Streets are:
Edinburgh
Canterbury
Taunton
Shrewsbury
Cheltenham
York
Brighton & Hove
Eastbourne
Exeter
Cambridge
The report paints a picture of the rapidly changing British High Street dominated by cafes and coffee shops, convenience stores, off-licences, vape shops and boarded-up premises.
Vape shops were counted as a 'healthier' business, because of their role in discouraging smoking. However, the report added the "precise long-term effects of vaping are unknown".
Shirley Cramer, RSPH chief executive said: "When our time and money are converted into a loss at the bookmaker, a tan from a sunbed, a high-cost loan or a bucket of fried chicken, the High Street is enabling and supporting poor health behaviours.
"Our Health on the High Street rankings illustrate how unhealthy businesses concentrate in areas which already experience higher levels of deprivation, obesity and lower life expectancy.
"Reshaping these High Streets to be more health-promoting could serve as a tool to help redress this imbalance."
How were the high streets evaluated?
The RSPH developed what they call the "Richter Scale of Health" to evaluate the high streets.
Each business was scored on the basis of whether it encouraged healthy lifestyle choices, promoted social interaction, mental wellbeing and greater access to health services.
Scores ranged between 8 and -4. Pubs, for example, scored 2 and libraries scored 5. Empty premises and tanning shops scored -1 and fast food shops -2.
The scores for each outlet on the high street were added up and then divided by the total number of businesses on each street to reach a final score.
The rise in online retail is linked to the growing numbers of empty premises, which have increased from 7% in 2007 to 11% in 2017.
This year the High Street has seen several big name closures including Toys R Us and Maplin and, in this week's Budget, Chancellor Philip Hammond cut the business rates for small retailers, and proposed a new tax on online retailers in an effort to boost physical shops.
However industry bodies said the changes didn't go far enough.
The RSPH is calling for further measures including urging local authorities to make vacant properties publicly accessible for what is known as "meanwhile use" - pop-up art galleries or community centres.
The London rankings showed that the borough of Haringey boasted both the most unhealthy street, West Green Road in Seven Sisters, and the healthiest one, in Muswell Hill.