Type 2 diabetes: NHS to offer 800-calorie diet treatment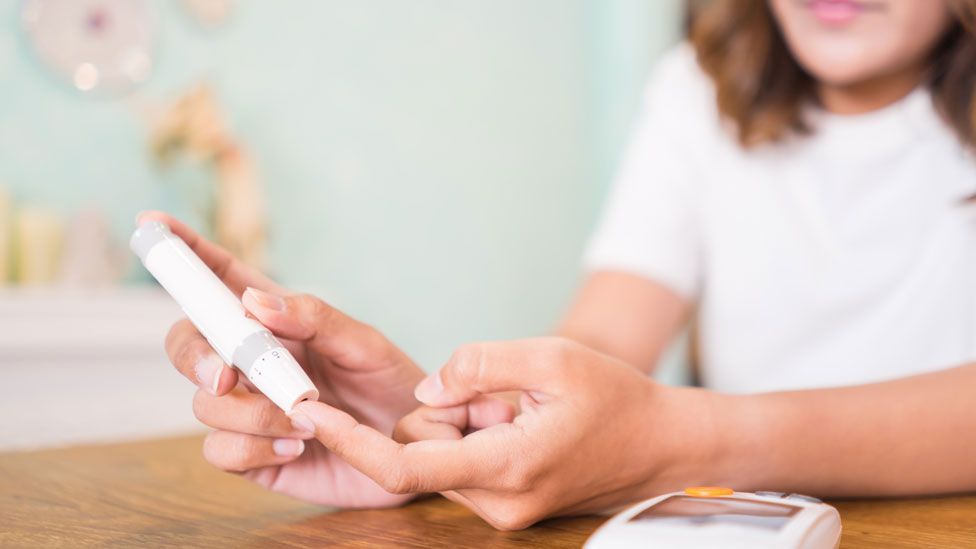 Thousands of people with type 2 diabetes in England are to be prescribed a very low-calorie diet in the hope of reversing their condition.
Under the pilot they will be restricted to 800 calories a day, in the form of soups and shakes, for three months.
NHS England has also announced it's expanding a programme to prevent people developing type 2 diabetes.
The health service currently spends around 10% of its budget on treating diabetes in England.
Up to 5,000 patients will be prescribed the diet by the NHS initially. They will also receive follow-up support.
Nine out of 10 people with diabetes in the UK have type 2, which is strongly linked to diet and lifestyle.
Type 1 diabetes, on the other hand, is an autoimmune disease that is not linked with being overweight or inactive.
One patient who took part in a recent trial, involving 298 people, lost more than four stones (25kg) and no longer needs diabetes medication.
Isobel Murray, from Largs in North Ayrshire, was on the liquid-only diet for 17 weeks, with each meal consisting of a 200-calorie sachet of powder mixed with water to make a soup or a shake.
After losing weight, she was then introduced to healthy, solid meals by dieticians - but she said while the liquid diet was relatively easy, "eating normal food is the hardest bit".
She said of the diet: "You have to be fired up, you have to be prepared, but anybody can do it if you feel strongly enough."
Prof Jonathan Valabhji, national clinical director for diabetes and obesity for NHS England, acknowledged the diet is challenging and it does not suit everyone.
"But we think it is worth exploring the implementation of these programmes within the NHS so that those who could benefit, can benefit," he said.
While type 2 diabetes can have a genetic component, it is strongly linked to being overweight or obese.
About two-thirds of adults and one-third of children are currently overweight or obese, which is driving up rates of the condition.
It is a common condition that causes the level of sugar (glucose) in the blood to become too high
It is caused by problems with a chemical in the body (hormone) called insulin
Symptoms of type 2 diabetes can include excessive thirst, needing to urinate a lot and tiredness
It can increase the risk of getting serious problems with the eyes, heart and nerves
A type 2 diabetes prevention programme has been running in England for the past three years and has seen encouraging results.
So far, more than 250,000 people who were on the cusp of developing type 2 diabetes have been referred to classes which offer advice and support on food, diet and exercise.
On average, participants have each lost 8lb (3.6kg) in weight, greatly reducing their risk of developing the condition.
Now the programme is also set to undergo a significant expansion, helping 200,000 people a year.
Experts have previously cautioned that low-calorie diets should not be tried without any support to keep the weight off afterwards.
Dieting helps lose the fat which has built up around the pancreas, allowing the organ to work properly again and produce enough of the hormone insulin.
Dr Shareen Forbes, reader in diabetes and endocrinology at the University of Edinburgh, said: "There are now a number of studies that demonstrate remission of type 2 diabetes with weight loss.
"Such interventions can have significant economic impacts given the levels of type 2 diabetes now in society.
"These are important clinical studies," she said.
But Simon Stevens, chief executive of NHS England, said industry needed to take action too.
"The NHS pound will go further if the food industry also takes action to cut junk calories and added sugar and salt from processed food, TV suppers and fast-food takeaways," Mr Stevens said.
The announcements come ahead of what is known as the Forward Plan for the NHS in England, in which measures that prevent ill health in the first place are expected to be heavily emphasised.