'I feel cheated' - right to die campaigner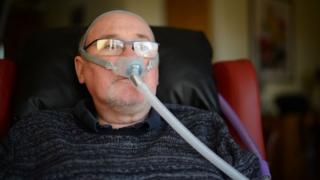 Noel Conway says "a medieval mindset" has prevented him having the right to control when he dies.
The retired lecturer from Shropshire, who is terminally ill with motor neurone disease, was refused permission by the Supreme Court last week to challenge the law on assisted dying.
He told me he was "bitterly disappointed, bewildered, and felt cheated" by the decision.
The only way he can end his life now in the UK is to remove his ventilator.
But Mr Conway is not ready to die. He is too busy publishing a collection of short stories and finishing his memoirs.
He uses voice recognition software to dictate to his computer because he has no movement below his head and neck.
Mr Conway wants a doctor to be allowed to prescribe him a lethal dose of drugs, when he has less than six months to live.
Supported by the campaign group Dignity in Dying, his legal team have spent the past two years challenging the blanket ban on assisted dying.
They argue that the Suicide Act, which makes it an offence to help someone to die, contravenes the European Convention on Human Rights.
But that legal challenge came to an abrupt end at the end of November, when the Supreme Court refused permission to hear an appeal - Mr Conway's case had already been rejected by two lower courts.
'No humane ending'
Mr Conway, who was diagnosed with motor neurone disease in 2014, told me he was "bitterly disappointed, bewildered, and felt cheated".
Speaking at his home in Shropshire he told me that more and more jurisdictions around the world were introducing assisted dying: "One hundred million people worldwide can access a dignified and humane ending to their lives, but we can't in this country.
"We are governed by a medieval mindset which overrides more modern ways of thinking, like the Human Rights Act."
Mr Conway said his only option of ending his life in this country was by removing his ventilator.
He is still able to breathe without the mechanical device for short periods, and there is uncertainty as to how long he might survive without it.
"If it's removed I should have only a few minutes to live, but it could be hours or even days."
The Supreme Court was told that any distress could be managed through palliative care.
'Terrible for my family'
Mr Conway says he accepts there would be pain relief, but argues that it would leave him in a "semi-conscious state" and deny him a dignified death: "It would be terrible for my wife and family, not knowing whether I could hear them or how long it would take before I expired."
Mr Conway told me he would continue to campaign for assisted dying, even though all legal options are now closed.
MPs overwhelmingly rejected proposals to allow assisted dying in England and Wales in 2015.
Care Not Killing, which opposes assisted dying, said the Supreme Court had been right to reject a "dangerous attempt to legalise assisted suicide", adding that the current law balances an individual's rights with the need to protect vulnerable people, who could feel pressured into ending their lives.
Follow Fergus on Twitter.