What are the latest rules for face coverings and masks?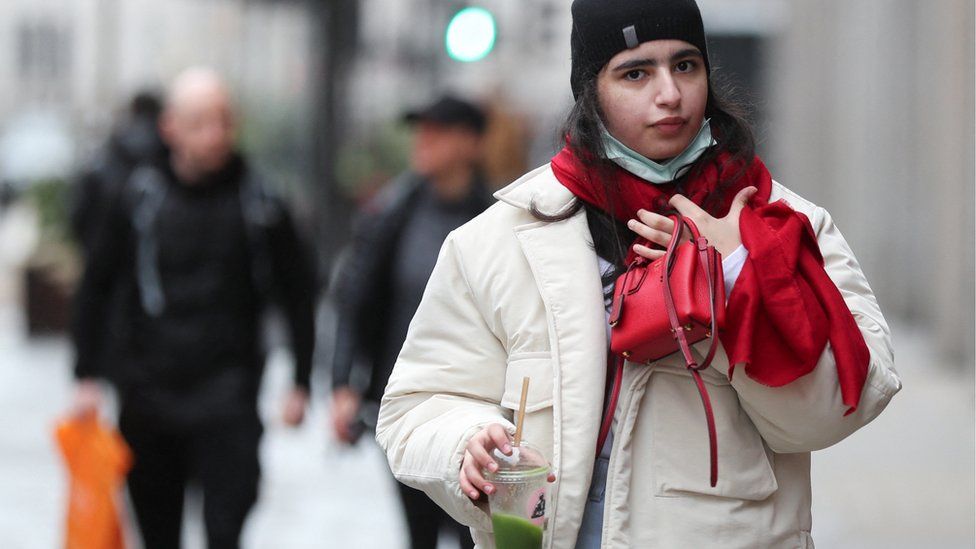 Rules around face coverings are easing across the UK, but they are still required in some settings.
Heathrow Airport and a number of airlines are relaxing their rules on masks.
But Nicola Sturgeon has said face coverings must still be worn in Scotland after all other legal requirements are lifted on 21 March.
What is the situation in Scotland?
All other restrictions on businesses and services will move from legal requirement to guidance on 21 March.
The rules on masks will be reviewed again on 29 March, and are expected to be converted to guidance by 4 April.
At the moment, masks must be worn in most indoor public spaces including public transport, shops and gyms (although they can be temporarily removed when exercising).
They are mandatory in pubs and restaurants when not seated or dancing, as well as in the workplace in communal areas and canteens.
What is the situation in England?
Masks are no longer legally required in most public spaces - although they are still recommended in some situations:
What is the situation in Wales?
Face coverings are no longer required in classrooms and some venues such as museums and cinemas.
However, they will still need to be worn in shops, salons, hairdressers, health and social care settings and on public transport.
The Welsh government has said it intends to lift all remaining Covid regulations by the end of March.
What is the situation in Northern Ireland?
Mask-wearing is no longer legally enforced in Northern Ireland.
However, face coverings are still recommended in certain places, such as enclosed public spaces and health and social care settings.
How much can I be fined for not wearing a mask?
In Wales, the penalty for a first offence is £60, with the fine doubling for each subsequent offence - up to a maximum of £1,920. Repeat offenders can also be prosecuted in court where fines are unlimited.
In Scotland, the police can issue a penalty notice of up to £60 for breaking the law on mask-wearing.
Covering the nose and mouth reduces the spread of coronavirus droplets from coughs, sneezes and while speaking.
What sort of face covering is best?
have a nose wire
have at least two or three layers of material
fit snugly over mouth, nose and chin
Standard surgical masks are acceptable. It is also possible to buy FFP2 and FFP3 masks used by healthcare workers which can offer higher protection. However, these must be fitted correctly to work.