Coronavirus: Two cases confirmed in UK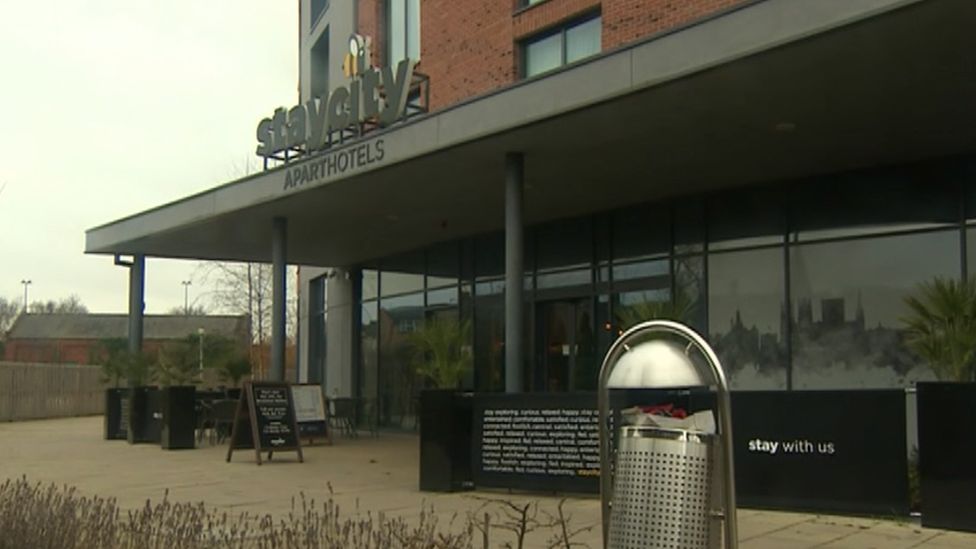 Two people from the same family have tested positive for coronavirus in the UK, the chief medical officer for England has announced.
The Chinese nationals were guests at the Staycity apartment-hotel in York, before being taken to the Royal Victoria Infirmary in Newcastle.
The hotel remains open for business but their apartment will be thoroughly disinfected, the company said.
Meanwhile 83 Britons evacuated from Wuhan in China are in quarantine.
The new coronavirus has caused the deaths of 213 people so far - all in China.
Cases of the virus have reached nearly 10,000 in China - and more than 100 cases have been reported in 22 other countries.
Prof Chris Whitty, chief medical officer for England, said the NHS was "extremely well-prepared for managing infections" and it was quickly trying to identify any close contacts the two patients had to prevent further spread.
But he said the confirmed cases could not be identified because of patient confidentiality.
Who qualifies as a close contact?
Anyone who is within two metres of the infected person for 15 minutes.
Would the virus survive on a tissue?
Probably for 15 minutes, but it is unlikely to survive on surfaces, like door handles, for more than 24 hours.
Source: Public Health England
The two people with coronavirus were moved from their York apartment-hotel to be treated initially at Castle Hill Hospital in Hull, before being taken to the infectious diseases unit in Newcastle.
Public Health England said there was minimal risk of infection to either guests or staff at the Staycity property in York.
Those identified as close contacts would be given health advice about symptoms and an emergency number in case they became unwell - but wouldn't be quarantined, PHE said.
'High chance of getting better'
Prof Whitty said the specialist unit at the Newcastle hospital was experienced in treating people with infectious diseases and there was "a high chance people would get better", based on current information.
"A lot of people will end up with a relatively minor disease," he said.
The small number who go on to be more seriously ill tend to develop respiratory problems which "will be dealt with as anyone else with a respiratory disease", Prof Whitty added.
Some GPs have started sending text messages to patients, telling them to stay away from their local surgery and phone them instead, if they feel unwell and have been to China in the last two weeks.
Ian Jones, professor of virology at the University of Reading, said the possibility of further spread was "minimal" because the cases were caught early.
Virus experts said they were not surprised to see cases in the UK but there was no reason to panic.
The WHO declared the outbreak a global emergency on Thursday.
The mortality rate for the new strain of coronavirus is currently low, at 2% - less than Sars at 10% and Ebola at 70%, the chief medical officer says.
But the death rate could yet go up if more of those in hospital die, or down if it's discovered there are many other people with mild symptoms.
The quarantined Britons are being isolated from the general public, but not in "solitary confinement", according to the chief medical officer.
"We intend them to be housed in a way which is pleasant," he added.
Pat Hackett, leader of Wirral Council, said: "All services in the hospital are running as usual including emergency services, outpatients and planned surgery. Staff working in the hospital will not be in contact with these UK citizens."
Detective work now needed
This is not a surprise and is a moment the country has been preparing for.
The response now will be two-fold.
The first is to treat the patients while preventing any spread of the virus.
This is something specialist centres in the NHS have plenty of experience of - including when caring for patients who caught Ebola during the outbreak in West Africa in 2014.
The second is a massive feat of detective work to find out who these patients may have passed the virus on to.
Last night, doctors in Germany confirmed cases there had spread before people even developed symptoms.
Effective "contact tracing" is how the virus can be contained.
There is still much we do not know about these cases, but the situation in the UK is completely different to China where there are nearly 10,000 cases and the authorities are still trying to get on top of the outbreak.
Learn more about the new virus
Please include a contact number if you are willing to speak to a BBC journalist. You can also contact us in the following ways: