Coronavirus death rate: What are the chances of dying?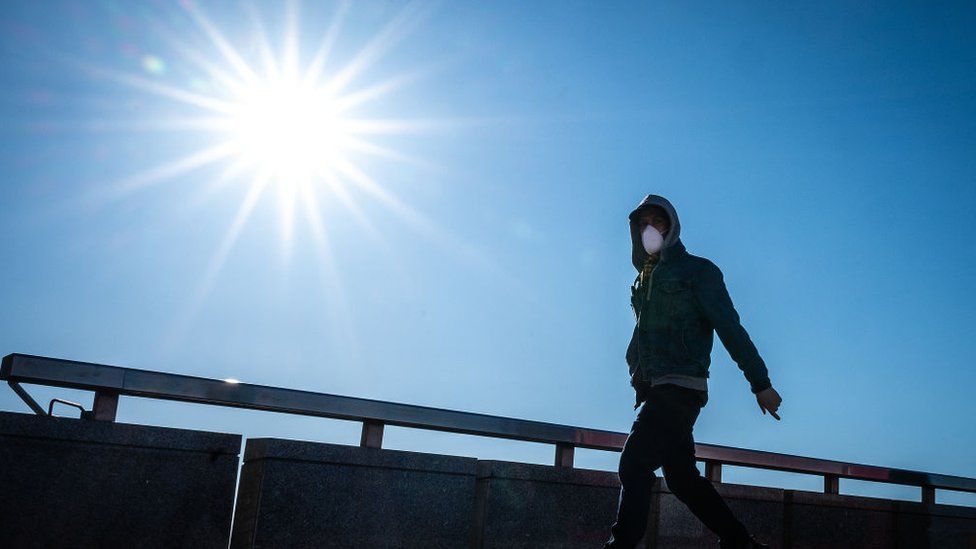 The UK government's scientific advisers believe that the chances of dying from a coronavirus infection are between 0.5% and 1%.
This is lower than the rate of death among confirmed cases - which is 4% globally in WHO figures and 5% in the UK as of March 23 - because not all infections are confirmed by testing.
Each country has its own way of deciding who gets tested, so comparing case numbers or apparent death rates across countries can also be misleading.
Death rates also depend on a range of factors like your age and general health, and the care you can access.
What are the risks for people like me?
The elderly and the unwell are more likely to die, if they contract coronavirus.
Current estimates from Imperial College London are that the death rate is almost 10 times higher than average for those over 80, and much lower for those under 40.
The UK government's chief medical advisor, Professor Chris Whitty, says even though the rates are higher for older people, "the great majority of older people will have a mild or moderate disease".
He also warns that we should not think it's a trivial infection for younger people, pointing out that there are some young people who have ended up in intensive care.
It's not just age that determines the risk of infections.
In the first big analysis of more than 44,000 cases from China, deaths were at least five times more common among confirmed cases with diabetes, high blood pressure or heart or breathing problems.
All of these factors interact with each other and we don't yet have a complete picture of the risk for every type of person in every location.
And even though patterns in the death rates among confirmed cases can tell us who is most at risk, they can't tell us about the precise risk in any single group.
The death rate in confirmed cases is not the overall death rate
Most cases of most viruses go uncounted because people tend not to visit the doctor with mild symptoms.
On 17 March, the chief scientific adviser for the UK, Sir Patrick Vallance, estimated there were about 55,000 cases in the UK, when the confirmed case count was just under 2,000.
Dividing deaths by 2,000 will give you a much higher death rate than dividing by 55,000.
That's one of the biggest reasons why the death rates among confirmed cases are a bad estimate of the true death rates: overestimating the severity by missing cases.
But you can also get it wrong in the other direction: underestimating the death rate by not taking into account those people currently infected who may eventually die.
Why do death rates differ between countries?
Countries use different tests for the virus, have different testing capacity and different rules for who gets tested. All of these factors change over time.
The UK government plans to increase testing to 10,000 a day initially, with a goal of reaching 25,000 a day within four weeks. It currently restricts testing mainly to people in hospitals.
Germany has a daily testing capacity of more than 20,000 cases and has been testing people with mild symptoms.
So their counts of confirmed infections could capture different sections of the pyramid of cases shown above.
The death rate among confirmed cases in Germany (less than half a per cent) is among the lowest in Europe, but is expected to rise as the mix of patients getting tested changes.
Your prognosis also depends on the treatment that's available and whether the health service can deliver it.
In turn, that depends on the stage of the epidemic.
If a healthcare system gets swamped with cases and intensive care units can't treat people who need ventilation, then the death rate would go up.
How do scientists work out the true death rate?
Scientists combine individual pieces of evidence about each of these questions to build a picture of the death rate.
For example, they estimate the proportion of cases with mild symptoms from small, defined groups of people who are monitored very tightly, like those on repatriated flights.
But slightly different answers from these targeted pieces of evidence will add up to big changes in the overall picture.
And the evidence will change over time.
Paul Hunter, professor of medicine at the University of East Anglia, points out that death rates could go down as well as up.
"With Ebola, they came down over time as people got better at treating the disease" but they can go up too: "If a healthcare system is overrun, then we see death rates rising".
So scientists give a an upper and a lower figure, as well as a best current estimate.
Have you been affected by the coronavirus? Or do you have any information to share? Get in touch by emailing haveyoursay@bbc.co.uk.
Please include a contact number if you are willing to speak to a BBC journalist. You can also contact us in the following ways: