Coronavirus: What's the risk of taking buses or trains?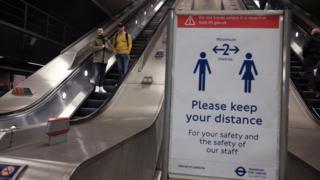 As the coronavirus continues to spread, governments have restricted travel.
There have been reduced services on trains, buses and planes, and the UK government has advised against all but essential travel.
The BBC has been receiving questions about whether it is safe to take public transport.
Trains and buses
Coronavirus spreads when an infected person coughs small droplets - packed with the virus - into the air.
These can be breathed in, or can cause an infection if you touch a surface they have landed on, and then touch your face with unwashed hands.
As a result, government advice is to avoid being within two metres of an infected person.
So a lot of the potential risk of infection on trains and buses depends on how crowded they are, and this will vary in different parts of the country and on different routes.
Health Secretary Matt Hancock has been critical of Transport for London for not running more Tube trains to reduce crowding. TfL responded that staff sickness and self-isolation meant that it could not safely run a full service.
Previous research has suggested a link between commuting on the London Underground and the likelihood of catching respiratory illnesses.
Dr Lara Gosce, at the Institute of Global Health, says her research (published in 2018) showed people who used the Underground regularly were more likely to suffer flu-like symptoms.
"Particularly, it shows that boroughs served by fewer lines - where inhabitants are forced to change line one or more times when travelling on the Underground - have higher rates of influenza-like diseases, compared to well-served boroughs where passengers reach their destination by one direct trip," she said.
If you're travelling on a relatively empty train or bus, though, your risks would be different. How well vehicles are ventilated and how long you spend on them will also play a role.
Train operating companies are running reduced services for people who have to travel and checking carriages more often to see if they need cleaning.
Network Rail, which operates British rail tracks and stations, has announced that it is cleaning surfaces such as handrails and ticket machines more often, as well as making sure that station toilets are stocked with soap.
Major bus operator Arriva has cut back on the frequency of its services but is also stepping up its cleaning regime to concentrate on surfaces that are most touched by passengers.
Transport for London, which has closed 40 Tube stations, says it has stepped up the cleaning regime on its network, including using a hospital grade anti-viral disinfectant.
According to Dr Gosce, "limiting the number of close contacts with potentially infected individuals and objects is important".
"In terms of travel, avoid peak hours if possible," she says, suggesting, where viable, passengers should choose routes involving only one means of transport.
Planes
The main concern about air travel, especially early in the outbreak, was how it could transport potentially infectious people from one part of the world to another.
Many airlines around the world have been suspending, consolidating or rescheduling flights and some airports have been shut.
The UK government has advised people to avoid non-essential international travel and encouraged UK residents to return to the UK as soon as possible.
If you have to fly, it's a common belief that you are more likely to become ill on an aeroplane, because you're breathing "stale" air.
In fact, the air on a plane may well be better quality than in the average office (and almost certainly better than a train or a bus).
There are more people per square foot on a busy plane, which can increase the risk, but the air is also being changed at a faster rate.
But it's difficult to generalise about the risks on any form of transport because there are various factors that increase or decrease the risk.
The usual advice applies - wash your hands, clean surfaces where possible and sneeze and cough into a tissue.