Coronavirus, schools and children - what are the risks?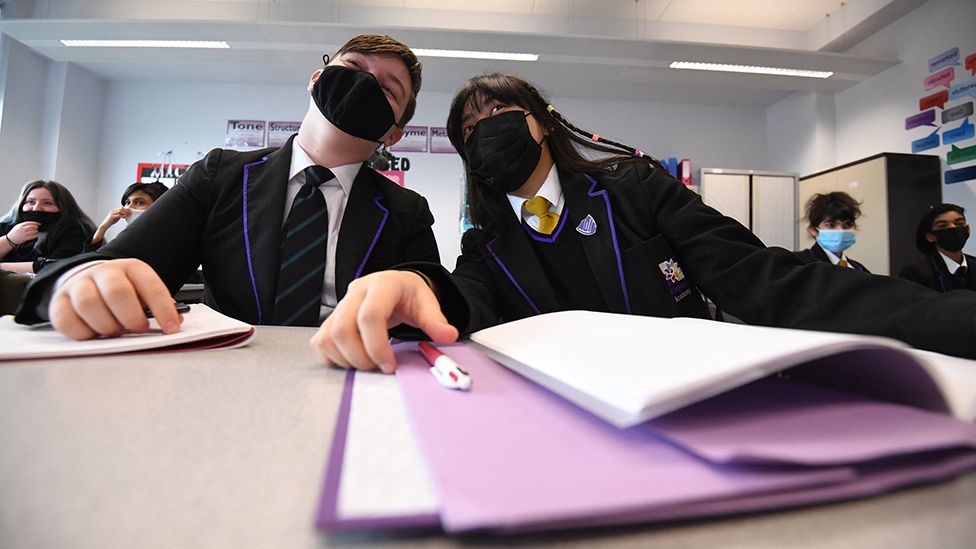 All pupils in England - and many in Scotland, Wales and Northern Ireland - can now be taught face-to-face in school classrooms.
What is known about how the virus is transmitted among children and the risk to pupil, teachers and the rest of the community?
What's the risk to children and young people?
The risk of children becoming seriously ill from the virus is tiny. This hasn't changed even with a new, more contagious variant of coronavirus circulating.
Despite a rise in the number of children infected during the winter, there was not a substantial rise in hospital admissions.
"As cases in the community rise there will be a small increase in the number of children we see with Covid-19, but the overwhelming majority of children and young people have no symptoms or very mild illness only," says Prof Russell Viner, president of Royal College of Paediatrics and Child Health.
Do children spread the virus?
Among pupils in primary schools, evidence shows that there is limited spread of coronavirus.
But teenagers - particularly older teens - are probably more like adults in the way they transmit the virus.
During England's November lockdown, schools remained open and operated normally, when many other places had shut down.
What role do schools play in spreading coronavirus?
This is difficult to say. When schools are open, there is more spread among schoolchildren, particularly those at secondary level. There have also been signs that transmission dips after school holidays, such as half-term.
But it's hard to say whether children are catching the virus in the classroom, or on the bus or hanging out with friends after school.
Rates of infection in schools tend to reflect rates of infection elsewhere.
An ONS survey of 100 schools in England, which tested random pupils and staff without symptoms, found 1.24% of pupils and 1.29% of staff tested positive for the infection in November, mirroring an estimated 1.2% infection rate in the general population.
Jenny Harries, England's deputy chief medical officer, has said schools are "not a significant driver" of cases of Covid in communities, although she said children could definitely transmit the infection in schools and elsewhere.
Sage, the government's scientific advisory group, has suggested opening schools could increase the virus's reproduction rate or R number by as much as 30%.
But this is highly uncertain and depends a lot in factors like testing, masks and ventilation.
What's the risk to teachers?
Teachers do not seem to be at significantly higher risk than other occupations.
In December, 15% of teaching and support staff tested positive for antibodies, giving them an average risk for their age.
In contrast, between 25% and 50% of hospital staff had antibodies, while in care homes that had at least one Covid outbreak, two-thirds (66%) of staff had antibodies by the end of the first wave.
And overall, teaching and education professionals are no more likely to die of Covid than their peers.
Nurses, cleaners, social workers, restaurant staff, taxi drivers and security workers are all at greater risk than teachers, according to the Office for National Statistics.
That doesn't tell the whole story, of course - your ethnic background, underlying health conditions, where you live and who you live with are all factors too.
Teachers tend to be younger and healthier on average than some other occupations and they're also more likely to be female - all factors which put them in lower risk groups.
Will opening schools have an effect?
According to Dr Shamez Ladhani, the chief investigator of the ONS schools survey and a consultant at Public Health England, the long-term harm of keeping children out of school is "enormous", but adds that "the risks are not zero".
Sage says policymakers need to weigh up the benefits and harms of closing schools. This includes reducing the direct health risks to staff, and the negative impact on children's mental health, education, development and wellbeing.
Many experts agree this is a difficult balancing act.