Coronavirus: Has the NHS got enough of the right PPE?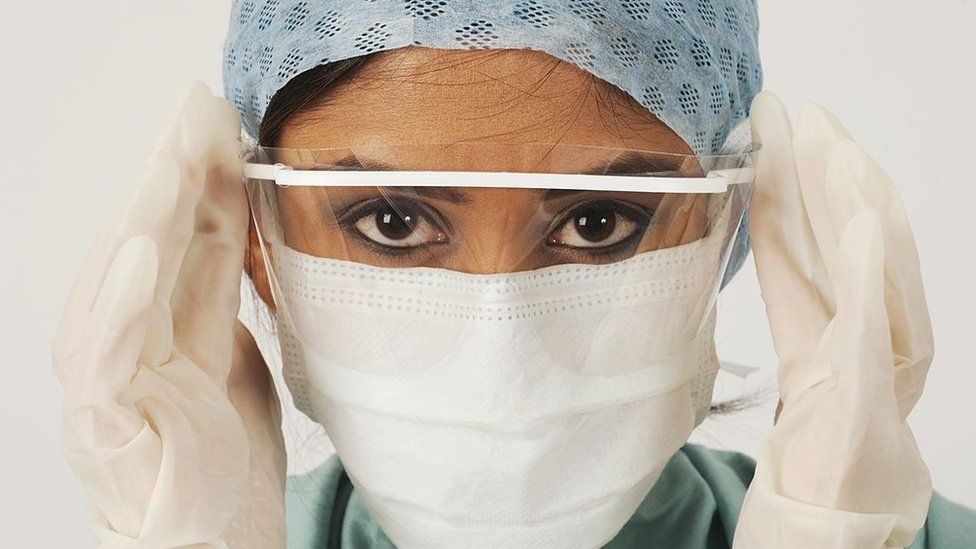 Personal protective equipment (PPE), like masks and gloves, helps stop the spread of coronavirus and saves lives.
What is PPE and who should wear it?
Anyone in close contact with patients should wear some form of protection. That includes staff in care homes, prisons and the community, as well as in GP surgeries or hospitals. People giving vaccines will also use PPE.
The type of PPE required depends on the level of risk.
Face coverings, unlike surgical face masks, are not classed as PPE as they are not usually made to a recognised standard and do not provide a proven level of protection for work.
In hospitals, anyone working within 2m (6ft) of a confirmed or suspected Covid-19 patient should wear an apron, gloves, a surgical mask and eye protection.
Clinicians carrying out tasks that could generate airborne droplets of saliva loaded with the virus should use an even higher standard of protection. This includes disposable gowns, filtering respirators and face-shielding visors.
That would include intensive care doctors getting a patient ready to go on a ventilator to support their breathing.
Ambulance staff driving the ambulance (if the cab is closed off from the patient compartment) do not need to wear any PPE. The rest of the crew should wear PPE appropriate to their likely risk of exposure.
Pharmacy staff who cannot keep 2m away from possible patients should wear a surgical mask.
The NHS needs billions of items each month.
There are about 1.6 million NHS staff in UK hospitals and the community, who need varying amounts of PPE.
Ordering is done on a UK-wide level, but different parts of the NHS have different levels of stock.
The government says 32 billion items, including masks, visors and gowns, have been bought.
Almost three quarters of expected demand for PPE will be met by UK manufacturers, it says.
How much kit has been sent out?
Before coronavirus, in 2019, the NHS and social care sector in England received around 2.4 billion items of PPE.
Since the start of the pandemic, more than 8.4 billion items have been delivered to the health and social care system in England.
That includes body bags, swabs, clinical waste containers, cleaning equipment and detergent as well as masks, gowns and gloves.
35.5 million masks
40 million aprons
1.1 million gowns
156 million gloves (supplied and counted individually rather than as pairs)
In the week to 30 December, this included:
1.9 million masks
2.3 million aprons
35,000 gowns
5.7 million gloves
In the week to 20 December, this included:
77,000 masks
2.6 million aprons
101,000 gowns
10 million gloves
In the week to 27 November, this included:
1.3 million masks
1.2 million aprons
53,500 gowns
4.6 million gloves
Can PPE items be washed and reused?
Some bits of kit can only be used once per patient. Others can be used for whole sessions, such as during a ward round visit to many patients.
All PPE worn during the highest-risk situations - where there will be lots of splatter from infectious droplets - should be single use, unless they can be decontaminated.
Aprons, gloves and surgical masks should usually be disposed of after a single use or session.
The Health and Safety Executive says it recognises "some compromise" is needed when there are extreme shortages of kit.
For example, some gowns could be washed by the hospital laundry and reused.
Both say members can refuse to treat patients as a "last resort" if there is not adequate PPE.
UK anaesthetic and intensive care bodies says doctors should carefully evaluate the risks before deciding whether to provide care.
The government said it was monitoring evidence on airborne transmission and would update advice "where necessary".