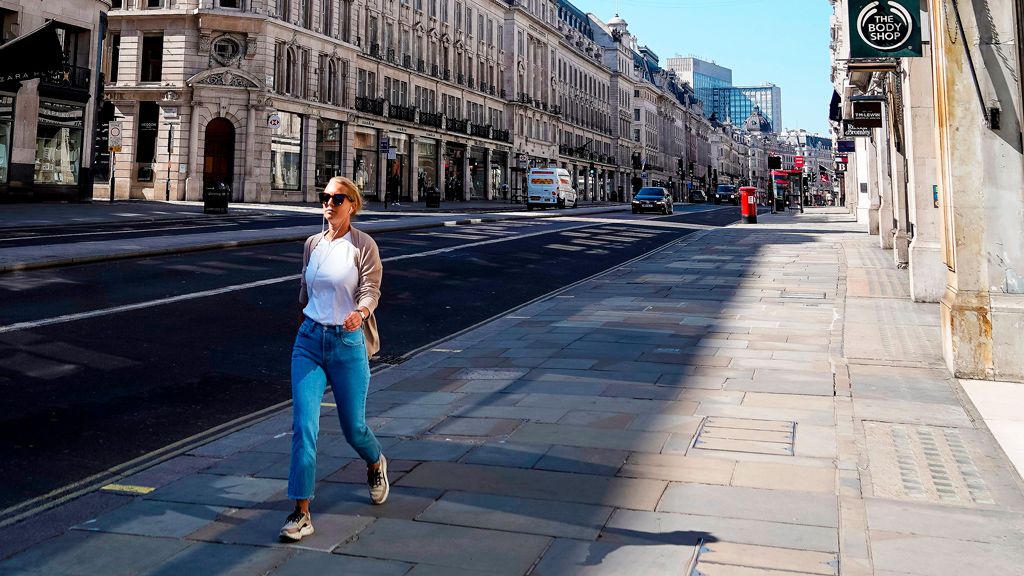 After Easter, when the government in England announced lockdown was to continue for another three weeks, it set out five tests that had to be met before restrictions were eased.
We are now well on the way to lifting them in both England and the rest of the UK.
But to what extent are the tests being met? And what is the risk of them lapsing?
Test one: Making sure the NHS can cope
As soon as images began to emerge in February of hospitals in Italy being overwhelmed with coronavirus cases, making sure the NHS could cope became the first priority.
Routine operations were cancelled en masse and large field hospitals - known as Nightingales in England - began to be built.
A deal was also struck with the independent sector to use ventilators and beds in private hospitals.
Cases peaked in early April - and have been falling ever since.
At the peak more than 3,000 Covid admissions were being seen every day. That is now down to under 500 and all the field hospitals are hibernating.
Routine work has now been restarted, but the NHS remains on an emergency footing, ready for a second peak.
If cases increase again the field hospitals will be re-opened - although with the exception of London, none of these has intensive care facilities.
Test two: A 'sustained and consistent' fall in the daily death rate
More than 40,000 people have died with coronavirus in the UK, government data shows.
These figure relate to the numbers who die after testing positive for the virus.
It does not necessarily mean the virus was the direct cause of their death - although work by the Office for National Statistics (ONS) suggests that in the overwhelming majority of cases it is.
Deaths peaked in early-to-mid-April - and have been falling ever since.
The downward trend is uneven because the recording of deaths slows at weekends, so the figures tend to drop then before rising during the week.
But when you look at the seven-day average, the trend is clear.
Test three: Rate of infection decreasing to 'manageable levels'
The number of newly diagnosed cases in the UK is hovering around the 1,500 mark on most days at the moment.
Ministers say this shows infection rates are at manageable levels.
At the peak there were around 6,000 positive tests a day, but this was when testing was restricted to certain groups, so was not an accurate measure of the true level of infections.
It is estimated in late March there were around 100,000 new infections a day.
But even now with widespread testing available, doubts remain whether the true level of infections is being identified.
A surveillance programme in England run by the ONS suggests around 4,000 new infections a day are being seen.
Part of the problem is that for some the virus leads to such mild symptoms or none at all, that they do not even realise they are infected.
That poses a problem keeping on top of the virus because if there are significant numbers of silent spreaders, new - more serious - cases could keep popping up.
Fourth test: Ensuring supply of tests and PPE can meet future demand
Currently the UK has capacity to provide more than 200,000 tests a day, if you include tests posted out to individuals and care homes.
That is a significant improvement on the picture at the start of March - when only around 10,000 a day were being done.
Three mega-labs have been opened to process tests, while around 50 drive-through testing centres, 100 military-run mobile units and a home-testing service have been launched to complement the testing done in hospitals.
That means there is plenty of capacity - anyone who needs a test can certainly get one.
Staff - in hospitals, care homes and, to a lesser extent, other public services - also need personal protective equipment (PPE), such as visors, gowns and masks, to protect them from the virus.
The more cases there are, the more demand for kit there will be.
In the first weeks of the pandemic, there were serious concerns about the availability of PPE.
Some hospitals and care homes were reporting they were struggling to get hold of the equipment they needed. The army was brought in to distribute supplies.
The stockpile the government holds for pandemics has been used up, but international and domestic supply routes have improved.
Local authority and NHS bosses both say the pressure on PPE has eased.
Fifth test: Being confident any adjustments would not risk a second peak that would overwhelm the NHS
Without a vaccine, this will be a very tricky one to navigate.
As well as widespread testing, England has set up a contact-tracing system, with separate services being run by the other UK nations.
The idea is that this service will help contain any local flare-ups by getting the close contacts of infected people to self-isolate, to stop further spread.
It is still early days for the programme - with even its bosses warning it is not yet "gold standard".
Originally the army of contact-tracers being employed was meant to be complemented by a tracing app that would alert people when they have been in close contact with an infected individual.
This could be particularly useful if people have been seated close to someone on a train, for example.
The app has been piloted on the Isle of Wight, but is currently not ready for national roll-out.
Where does that leave the UK?
The UK has come a long way in the past few months.
But there are concerns the infection rates are still too high and tests are not being turned around quickly enough, while doubts remain about whether the contact-tracing system will be good enough.
But at the end of the day, the easing of restrictions comes down to political judgement.
The lockdown itself is harmful - economically, socially and for health.
Ministers are taking into account more than just these five tests in the decision-making process.
Related Internet Links
The BBC is not responsible for the content of external sites.