Coronavirus: Plea for public to get medical care when they need it
By Philippa Roxby
Health reporter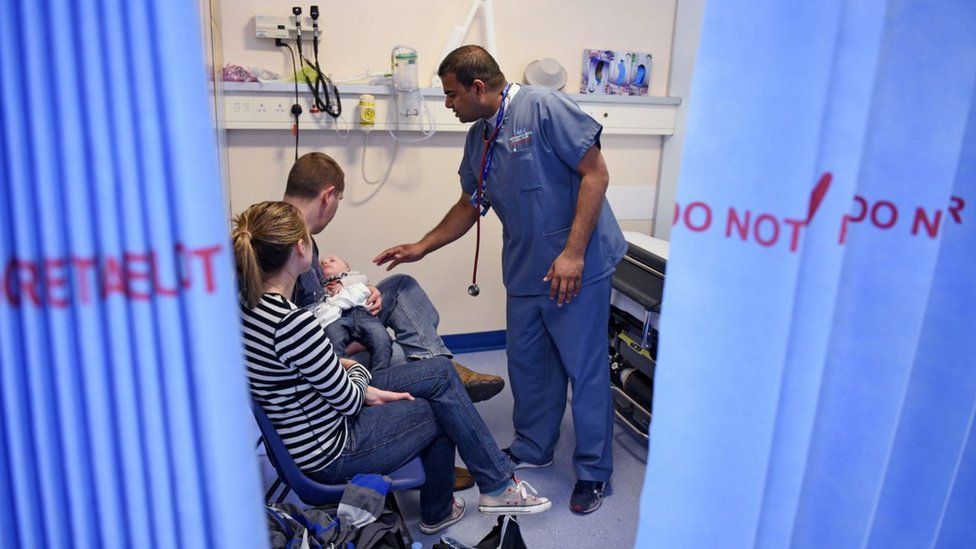 People should seek medical care when they need it and not be put off by the coronavirus epidemic, say doctors, charities and the health service.
Anyone who delays seeking treatment is putting their long-term health at risk, as well as their life, they warn.
Half the usual number of people are going to A&E and treatment for heart attacks and strokes is down.
Seeking medical help is one of the four reasons people can safely leave home, government guidance says.
NHS England's medical director Stephen Powis said he was concerned by the reduced numbers.
"If you do have symptoms of stroke, chest pain and think it might be a heart attack, a sick child who is deteriorating, if you are a pregnant woman and the baby is not moving as much as it used to - it is important you don't delay," he said.
Prof Powis suggested the falling numbers were due to people worrying about bothering the NHS and fears of catching the virus in a medical environment.
But he said he wanted to reassure people that A&E departments and GPs' surgeries had made changes to keep staff and patients safe, for example GPs talking through a patient's symptoms on the phone before asking them to go into a surgery.
A public information campaign persuading people to use the health service will feature NHS staff and start next week.
It comes as the UK's chief medical adviser Prof Chris Whitty warns of the impact of deaths from causes other than Covid-19 during the lockdown.
As of 17:00 BST on 24 April, 20,319 people who tested positive for Covid-19 have died in UK hospitals.
Four other countries to date have announced an official number of coronavirus-related deaths exceeding 20,000 - the US, Spain, Italy and France.
Shadow health secretary Jonathan Ashworth said the government needed to move to testing and tracing those who had come into contact with the virus as soon as possible so that people's lives could return to normal.
"Either we are in lockdown for that 18 months which is clearly unsustainable for the economy and it means other health issues build up," he told BBC's Breakfast.
"People are not going to hospital, peoples' treatment is cancelled, people with cancer are not getting the treatment they need."
Contact your GP practice, use NHS 111 online or call 111 if you need medical help
Call 999 in emergencies
Go to hospital if you are told you should
Figures suggest half the number of people will go to Accident and Emergency departments in hospitals in England this month, compared with April 2019 - down to just over one million visits.
And experts say they are concerned people are not getting potentially life-saving treatment for heart attacks and strokes, with a 50% fall in the number of people seeking medical help for heart symptoms.
Dr Sonya Babu-Narayan, associate medical director at the British Heart Foundation, said it was "vitally important" that the many thousands of people in the UK with existing heart conditions accessed care "immediately" if their condition worsened.
Ryan's story: 'Hanging on by a thread'
Ryan Wallace, from Limavady, in County Londonderry, did not want to be a burden on the health service when he felt chest pains.
But after doctors warned he was close to having a major heart attack he has told others not to put off going to hospital.
"Coronavirus was worrying, yes, but I also didn't want to put more burden on the NHS and putting more stress on their already stretched resources.
"Their first words were 'you're a lucky boy you came in here.' They showed me in black-and-white on the screen after the procedure and they said I was hanging on by a thread."
Mr Wallace required three stents to be inserted and said those who stayed away would "only be storing up problems down the line".
There are also concerns that children may be missing out on medical care during the pandemic.
"Children are unlikely to be unwell with Covid, but they do get sick and when this happens we want to see them," said Prof Russell Viner, president of the Royal College of Paediatrics and Child Health.
There is also a warning that people should not dismiss strokes as "just a funny turn".
Juliet Bouverie, from the Stroke Association, said a stroke was a medical emergency.
"The quicker you're diagnosed and treated for a stroke, the better your chances of making a good recovery," she said.
If you suspect that you, or someone else could be having a stroke, call 999.
Prof Powis said that now the NHS was seeing fewer patients with coronavirus, it was time to start building up its services again.
"The NHS has done a magnificent job responding to coronavirus, we have not been overwhelmed in the way seen in other countries, now it is important to start stepping up again to ensure we are not delaying other procedures," he said.
Please include a contact number if you are willing to speak to a BBC journalist. You can also contact us in the following ways: